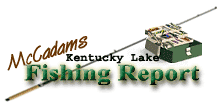 Brought to you by: Fishtale Lodge
Steve McCadams'
Kentucky Lake Fishing Report for:
November 7th, 2003
Kentucky Lakeís fall fishing scene had a weather change late this week but no one can complain as anglers have had unusually nice weather for the last several weeks. In fact, up until midweek there were record high temperatures on some days making it feel more like summer.
Surface temperatures this week have been in the 64 to 68 degree range, which is quite warm for this time of year. That will change as cooler temperatures have arrived for the weekend but it has had some bearing on the behavior of both bass and crappie.
Observed lake elevation in the Paris Landing area has been around 354.4 this week. The low lake levels really change the appearance of Kentucky Lakeís shoreline and overall fishing picture.
While the lake levels have been relatively stable, clear water continues to dominate the shallow water fishing scene.
Crappie continue to hit good with a variety of depths producing. I found a lot of fish in the 7 to 12 foot zones this week. The fish were relating to structure and holding tight most days as the bait had to be right nose of the fish, so it seemed.
A few cloudy days helped increase action in shallow areas. The fish seem to have a comfort zone when cloudy cover is present but take on a finicky mood when the bright sun and high skies dominate.
Stakebeds and brushpiles producing best have been those on ledges or adjacent to some deeper water.
Vertical presentations of chartreuse jigs, along with some unpainted leadheads and sliver or clear skirts sporting sparkles have worked well. Although several dull colors have also produced, it seems the fish prefer a jig tipped with a minnow.
The deeper ledges of the main lake continue to produce a few fish too. Working the submerged stumps and brush along the sandbars in depths of 15 to 20 feet with live minnows and jigs has been worth the effort, although fish there are not concentrated.
A lot of baitfish are working the shallow flats and large bays. And, several white bass have been on the ambush too, busting the surface on feeding frenzies.
Itís a good time to toss a small spinner such as a Rooster Tail. In addition to white bass youíll find some largemouth mixed in there too, along with an occasional rock fish.
Largemouth and smallmouth have been hitting good on shallow running crankbaits in the Tennessee Shad and chrome colors. And, pitching a worm or jig and pork combo is still working around docks.
Surface action was still part of the menu this week as the warm water prolonged topwater action of bass anglers using floating worms and various jerk baits around rocky banks and structure.
Rattle traps have produced when tossed over open water flats where shad are present.
The overall fall fishing scene has been a good one for Kentucky Lake anglers. A little cool weather and rain may dampen the scene for a day or two but look for both bass and crappie action to resume soon.
And, donít forget those rainy days can be great times to catch fish. Those low pressures work in your favor. That is, if you remember to pack along the raingear and extra coat.
For The Lake Barkley Report
Click Here
Also check out our past:
Kentucky Lake Fishing Reports
Steve McCadams
Steve McCadams is one of the nation's best known Crappie fishermen and a full time resident of Paris Tennessee. Steve is also a professional hunting and fishing guide here in the Paris Landing area.