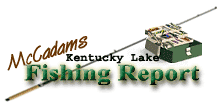 Brought to you by: Fishtale Lodge
Steve McCadams'
Kentucky Lake Fishing Report for:
January 16th, 2008
From the winter fishing scene comes word of good stringers of both sauger and crappie continuing to show up in the creel of area anglers who have been the beneficiary of some decent weather these last two weeks.
While duck hunters have been disappointed on those warm days with stagnant winds, the cloudy conditions have been great for sauger and crappie anglers who have reported consistent catches lately.
Several anglers have been catching their 10-fish limit of sauger here in the Paris Landing area by mid morning. A few fish have been taken in the 3-pound plus range too.
Local angler Jim Perry reported landing limits lately on several outings. He had also talked with Henry County anglers Billy Lacy and John Cox who have traded in their bass fishing rods for sauger gear for a few months. They have teamed up to take several sauger this winter as well.
Gleason angler Roland Denning has been catching his limit on a regular basis as well while fishing near the New McWherter bridge.
The reservoir has been falling slowly this week so current has likely worked in favor of sauger fishermen who are stalking zones in and around the main river channel.
TVA has been discharging a lot of water this week with 50,000 cubic feet per second going through Kentucky Dam at midweek, which means a modest amount of current is present in the main Tennessee River channel.
Lake levels are down by at least a foot from a week ago at this time as the reservoir continues to dance at levels above normal winter pool for the last six weeks or more. Projections going into the weekend show elevation will be in the 355.8 range at both Kentucky Dam and New Johnsonville.
That elevation will likely be even lower by early next week barring any drastic rains. Water color is dingy in most of the secondary areas with modest stain in the main river. Surface temperatures are in the 39 to 43 degree range.
Crappie action has also held its own as winter anglers continue to stalk main lake ledges with both jigs and minnows fished on tightline rigs. Some anglers are using the bottom bumping double hook rigs while others are just tightlining jigs in the 1/16 to 1/8-ounce range on light monofilament line.
Popular depths in the main lake have been 18 to 23 feet where submerged structure is attracting winter crappie to deep hideouts. However, some scattered fish have been taken in midrange stakebeds and brushpiles by anglers tightlining jigs with popular colors being pink and chartreuse, grape and chartreuse, some blue and white and light yellow with red metal flake, just to name a few.
Some cold weather is in the forecast for the weekend so anglers may have a short hiatus to the mild conditions that have dominated the weather scene since the start of the new year. However, watch for moderate weather to return soon as these winters are just not as cold as they used to be.
For The Lake Barkley Report
Click Here
Also check out our past:
Kentucky Lake Fishing Reports
Steve McCadams
Steve McCadams is one of the nation's best known Crappie Fishermen and a full time resident of Paris, Tennessee. Steve is also a professional hunting and fishing guide here in the Paris Landing area.