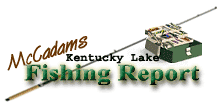 Brought to you by:





November 5, 2010

From the fall fishing scene at Kentucky Lake comes some pretty good reports of hefty crappie catches, along with some decent bass action this past week.
Weather has played an active role in the day to day success as late last week a cold front delivered high skies and annoying northeast winds for a day or two. Cold temps teamed with a high pressure to slow the bite for both bass and crappie anglers but by early this week fishing rebounded.
At midweek moderate temperatures and cloud cover were working in favor of fishermen and some nice catches were reported. However, another cool snap is already making its presence known as north winds are expected to return a chill to the air as the weekend approaches.
Surface temps this week have been in the 61 to 63 degree range, which is a few degrees cooler than last week at this time. Look for temps to fall a few degrees this weekend as cold nights enter the picture.
Lake levels are holding steady as not much rain has fallen this week. Observed elevation at Kentucky Dam was staying around 355. Upstream at New Johnsonville readings are in the 354.8 range. Both areas are similar to last week at this time.
Water color remains clear in the Paris Landing area but some stain was present up Big Sandy where shallow areas had been whipped up by high winds at times. Most of West Sandy sported a light stain.
Some nice size crappie are holding in the midrange depths of 8 to 13 feet. Structure such as stumps, brushpiles, and stakebeds are holding a good grade of fish, although fish seem scattered. It takes a lot of stops as the scenario continues to be a two-here, two-there pattern.
Deeper structure on main lake ledges is also producing some scattered fish. Depths of 14 to 17 feet were giving up a few keeper size crappie but concentrations of fish were hard to come by in both shallow and deep areas.
Jigs tipped with minnows continue to work well. Also, jigs tipped with various fish attractants have appealed to stubborn fish at times.
Popular colors have ranged from lime/chartreuse to white/orange, blue/pearl, and some green pumpkin with glitter, just to name a few. White and red leadheads have been popular at times and on clear days dull colored skirts and unpainted leadheads have worked for finicky fish.
A short hiatus may occur as the cold front descends but watch for action to improve once southwest winds resume and temps warm back to normal zones. Seems the wind has been an uninvited guest on several fall outings as of late.
Bass have been fair on shallow gravel banks and points. Roadbeds and rip-rap have accounted for several fish too as shad colored crankbaits have been the ticket.
Some fish were taking spinnerbaits and suspended jerk baits around boathouses and docks. At the same time some boats continue to fish main lake ledges with jig and craw combos or Carolina rigged worms and craws.
Shallow flats are holding some shad and bass have been schooling at times when wind pushes the baitfish up to shallow venues. Watch for those gulls to help direct you to the baitfish buffet.
November fishing may be getting off to a cool start but moderate conditions should return soon.

Also check out our past:
Kentucky Lake Fishing Reports

Steve McCadams is one of the nation's best known Crappie Fishermen and a full time resident of Paris, Tennessee. Steve is also a professional hunting and fishing guide here in the Paris Landing area.