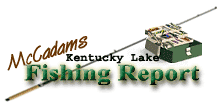 Brought to you by: Fishtale Lodge
Steve McCadams'
Kentucky Lake Fishing Report for:
January 13th, 2006
Winter fishing has been good lately as anglers are taking advantage of the extended spell of mild weather. Since Christmas and even a few days before, unusual weather has lingered in the area with above average temperatures that reached or exceeded record highs some days.
Crappie anglers are reporting some pretty good stringers taken earlier this week near the mouth of West Sandy and north near the power lines. Several fish were also taken at the mouth of Big Sandy where deep ledges in the main lake are giving up some decent fish.
Some fish are coming from 10-foot zones where anglers are working manmade fish attractors. Other reports indicate fish were relating good to 20-foot depths along drop-offs where submerged stumps and brush were located.
Local anglers have been picking their days and trying to catch one of those warm mornings with light and variable winds. Overall action has been good for crappie.
Some sauger reports have come in lately but the pattern appears to be that of small size fish. A few anglers were landing 20 or more fish each morning but only 3 or 4 fish were making the 14-inch minimum length limit.
Lake levels are staying near the winter pool mark of 354 with only minor variation during the week. Surface temperatures were in the 45 to 48 degree range earlier this week courtesy of the warm nights and mild days.
For The Lake Barkley Report
Click Here
Also check out our past:
Kentucky Lake Fishing Reports
Steve McCadams
Steve McCadams is one of the nation's best known Crappie Fishermen and a full time resident of Paris, Tennessee. Steve is also a professional hunting and fishing guide here in the Paris Landing area.