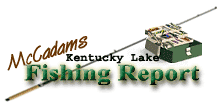 Brought to you by: Fishtale Lodge
Steve McCadams'
Kentucky Lake Fishing Report for:
November 30th, 2007
Crappie fishing continues to hold up well for anglers working the deep ledges and main lake venues where the fish have been cooperating.
Several good stringers were taken late last week and early this week as anglers were fortunate to have some calm winds and mild temperatures.
Depths of 18 to 22 feet have produced decent numbers of fish. Working those ledges where submerged structure is found will put you in touch with the fish. As surface temperatures cool the fish tend to fall back toward deeper water, following their forage, namely threadfin shad.
While a few fish were still lingering in the 10 to 13 foot zone where a lot of manmade fish attractors have been producing well all fall, it appears the fish have pulled back some in the last week to ten days.
Working jigs in and around the brush has been productive and live minnows are working too. Popular jig colors have ranged from blue and white to red and chartreuse. Also, purple and chartreuse, along with pink and white have been popular, just to name a few.
Surface temperatures are in the 48 to 51 degree range. Water color is clear in the mouth of Big Sandy and throughout the Paris Landing sector with some stain present in West Sandy.
Lake levels are still above normal for this time of year and up a few inches from last week at this time. However, TVA is predicting a slight drop in elevation going into the weekend.
Observed elevation at New Johnsonville Steam Plant is 355.7. Downstream at Kentucky Dam readings are in the 355.9 range and falling slowly.
Bass fishermen were still finding fish last week and into this week by fishing rock points and gravel banks with crankbaits and jig and pig combos. Grassbeds were also continuing to give up fish as the backs of large bays were still holding baitfish and bass.
Spinnerbaits, chrome colored rattletraps, and some Texas rigged worms were appealing to bass as were some chatterbaits and shallow running crankbaits.
Some anglers are working Carolina rigged worms and lizards slowly along sloping point and gravel banks as well.
Itís that time of the year when you have to pick your days as sometimes the cool fronts and gale winds will throw things off balance for a day or two. Yet action will resume quickly as those light and variable days will return.
For The Lake Barkley Report
Click Here
Also check out our past:
Kentucky Lake Fishing Reports
Steve McCadams
Steve McCadams is one of the nation's best known Crappie Fishermen and a full time resident of Paris, Tennessee. Steve is also a professional hunting and fishing guide here in the Paris Landing area.