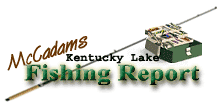 Brought to you by: Fishtale Lodge
November 25, 2009

Kentucky Lake is down dramatically from last week as this time after TVA pulled the plug and really discharged a lot of water. The reservoir is near its low ebb of winter pool but may dance up and down a few inches in the days ahead, depending on rainfall.

After several weeks of above normal elevation, the lake is about where it should be for this time of year.

Lake elevation at Kentucky Dam is projected to be 354.5 going into the weekend. Upstream at New Johnsonville readings will be in the 354.7 range this weekend but were somewhat lower than that at midweek.

Surface temps are in the 55 to 57 degree range. Water color is clear all over the reservoir as the falling lake stages pulled away what little stain was out there.

Nice weather continued up until midweek when a cool snap and northwest winds triggered a drop in temperatures. However, anglers cannot complain as it has been one of the nicest Novembers on record with pleasant temperatures and light winds dominating the fishing scene.

Bass fishermen have been beating the grass beds and having success tossing spinnerbaits and rattle traps. The lower lake levels really exposed vegetation in some areas and that has given anglers a lot of visible cover to fish.

Other patterns working have been shad colored crankbaits around gravel banks and roadbeds. Also paying off have been shallow running crankbaits and spinnerbaits fished around boat docks and piers.

Itís a different lake out there when the elevation approaches winter pool. And, a lot of shallow stumps are also just barely beneath the water, offering some good spots as well but also obstacles to the outboardís lower unit so be careful where you run.

Crappie are holding up pretty good with several decent stringers coming from the 11 to 14 foot zone this week. Some anglers found fish on the deep sides of ledges in 17 to 20 feet too.

Most anglers are vertical fishing jigs around submerged structure. Live minnows are working too but jigs have been paying off best.

Once surface temps fall back into the low to mid 50ís crappie tend to move up to midrange depths so those brushpiles and stakebeds in 9 to 12 foot depths should start paying dividends.

Although a cool spell is underway, it appears moderate temps will return soon as the weatherman says a warming trend is in the making. Good fall fishing continues.
Also check out our past:
Kentucky Lake Fishing Reports
Steve McCadams
Steve McCadams is one of the nation's best known Crappie Fishermen and a full time resident of Paris, Tennessee. Steve is also a professional hunting and fishing guide here in the Paris Landing area.