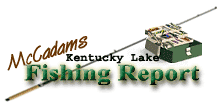 Brought to you by: Fishtale Lodge
Steve McCadams'
Kentucky Lake Fishing Report for:
November 21st, 2008
Cooler weather has entered the picture for Kentucky Lake anglers and put a chill in the fall fishing fever.
Brisk north winds have lingered for several days, whipping up whitecaps on the open water as temperatures have been somewhat below average.
It appears cold winds and falling temperatures have curtailed activity too as not many anglers have braved the elements this week.
Presently, surface temperatures are falling but were in the 50 to 53 degree range a midweek. Watch for readings to dip into the mid to upper 40ís by the weekend or early next week.
Lake levels continue to hold steady as very little rain has entered the area. TVA indicates stable lake stages will remain in the forecast. Kentucky Dam is resting around 355 while upstream at New Johnsonville reading are in the 354.8 range.
Water color remains clear across the reservoir.
Crappie anglers were still scoring some decent stringers as the cold front entered the scene this week. Some good stringers were coming from 8 to 10 foot depths or less in West Sandy where anglers were vertical fishing jigs over submerged stakebeds.
In the Paris Landing area some nice catches were reported late last week from the main lake ledges were depths of 13 to 16 feet were giving up some nice stringers.
A few fish were still coming from manmade fish attractors in the Paris Landing area too as depths of 8 to 13 feet were producing some scattered crappie that were taking jigs in the light blue, motor oil with sparkle, and some red and chartreuse color combos.
Bass action was fair earlier in the week as some anglers were tossing crankbaits and spinnerbaits around gravel and grass areas. Quite a bit of grass remains in the shallow flats and backwater bays.
By midweek bass action has slowed as the cold front advanced with its high skies and north winds that slowed the shallow bite.
Once the cold front looses its grip anglers should see some improvement. Until then, it could be tough sledding for a few days.
For The Lake Barkley Report
Click Here
Also check out our past:
Kentucky Lake Fishing Reports
Steve McCadams
Steve McCadams is one of the nation's best known Crappie Fishermen and a full time resident of Paris, Tennessee. Steve is also a professional hunting and fishing guide here in the Paris Landing area.