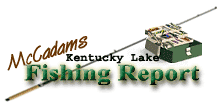 Brought to you by: Fishtale Lodge
Steve McCadams'
Kentucky Lake Fishing Report for:
November 21st, 2003
Fishing on Kentucky Lake this week has had a mixture of weather conditions ranging from warm and beautiful to cool and windy. Itís that time of year for anglers, however, as changing weather is all part of the fishing forecast in late fall and early winter.
Kentucky Lake has been rising slowly the last few days due to recent rains throughout the TVA valley. Observed lake elevation in the Paris Landing area was 355.2, which is up several inches from last week at this time.
Similar lake levels were recorded south at New Johnsonville. However, no drastic increases in lake stages were predicted by TVA for the next few days yet itís likely some increase in lake levels will occur as there was a lot of rain south us.
Surface temperatures were holding in the 54 to 59 degree range this week. Since the heavy rains early this week there is more dingy water in the creeks and bays due to runoff and high winds.
Crappie action has been good in deeper venues as some nice stringers were taken in Big Sandy and along some large bays on the Tennessee River. Depths of 17 to 23 feet were producing this week as anglers slow trolled jigs and minnows along ledges.
Jigs in the purple and chartreuse were producing, as were blue and white and some chartreuse with red metal flake. Some anglers are tipping jigs with minnows and also applying Berkley power bait to entice more strikes.
Other anglers are still finding fish around submerged stumps as they tightline double-hook bottom bumping rigs baited with live shiner minnows. Probing the structure has paid off this week as many fish hold around ledges and favor the deep side.
There are still some fish coming from brushpiles and stakebeds on the main lake flats in depths of 8 to 13 feet too. Some anglers are still catching fish with a vertical jig presentation right down in the cover.
Bass action is still holding up as anglers continue finding fish on sloping ledges and gravel points.
A variety of lures have been paying off ranging from Carolina rigged worms to slow moving crankbaits and hair jigs. Some smallmouth are showing up too, along with largemouth and spotted bass.
Watch for some increase in current this week as TVA flushes a lot of the rainwater through the reservoir.
For The Lake Barkley Report
Click Here
Also check out our past:
Kentucky Lake Fishing Reports
Steve McCadams
Steve McCadams is one of the nation's best known Crappie fishermen and a full time resident of Paris Tennessee. Steve is also a professional hunting and fishing guide here in the Paris Landing area.