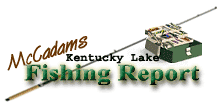 Brought to you by: Fishtale Lodge
Steve McCadams'
Kentucky Lake Fishing Report for:
January 12th, 2007
Kentucky Lake anglers had some good fishing conditions last weekend and several decent catches of both crappie and sauger were reported.
Water levels have really been fluctuating this week as the reservoir jumped up dramatically early t his week and crested at 357.5 in the Paris Landing area, which is over three above normal for this time of year.
By midweek lake levels were falling and a lot of current was present. Lake levels are expected to fall going into the weekend but watch for that to change early next week if predicted rainfall arrives.
Watercolor has had some stain in it this week and surface temperatures have stayed in the 47-49 degree range. A couple of cool nights pulled a few degrees away from that as well.
Crappie were hitting good in 10 to 12 foot structure late last week. Several decent stringers were taken as anglers worked brushpiles and stakebeds with jigs.
Sauger catches improved lately too as the increased current likely contributed to that.
Some windy and wet days have now arrived so anglers may get their spirits dampened. Warm weather is expected to linger through Sunday but a cold front is knocking at the door and may curtail fishing activity next week as winter makes its presence known.
For The Lake Barkley Report
Click Here
Also check out our past:
Kentucky Lake Fishing Reports
Steve McCadams
Steve McCadams is one of the nation's best known Crappie Fishermen and a full time resident of Paris, Tennessee. Steve is also a professional hunting and fishing guide here in the Paris Landing area.