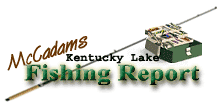 Brought to you by:





November 19, 2010

Late fall fishing has been fair this week as Kentucky Lake anglers dodged some wind and rain but mild temperatures and sunshine are in the forecast for the weekend.

Some much needed rainfall entered the picture Tuesday and while lake levels have risen slightly, not much runoff entered the reservoir as drought conditions prior to the recent rain saw the area soak up the overdue moisture.

Observed lake levels at Kentucky Dam are in the 355.1 range and up slightly from last week at this time. Upstream at New Johnsonville elevation was in the 355.2 range and also up slightly from the previous week.

Water color remains clear in most areas. Surface temps cooled some and rested in the 51 to 55 degree range this week. Cool nights have influenced surface temps in the last few days.

Crappie anglers were having fair luck this week and will likely do better as nice weather returns in the days ahead. Fish were somewhat scattered but some decent size ones were taken in 8 to 12 foot depths.

Manmade fish attractors in the 11 to 14 foot depth zone were also producing some scattered slabs but fish were not concentrated as it takes a lot of stops to accumulate a decent catch.

Watch for action to improve this weekend and into next week if warm, sunny days dominate.

Meanwhile, baits of choice have been jigs tipped with minnows. Seems a few fish are taking 1/16 and 1/8 ounce jigs in the red/chartreuse, blue/chartreuse, and white/orange color combos.

With cooler surface temps now in place more fish should be showing up in midrange depths.

Bass action has been off a bit from the previous two weeks but should also rebound if stable weather returns. Some fish are relating to gravel banks and big chunk rock points where casting chrome and various shad imitation Rattle Traps, Strike King's Red Eye Shad, and Bomber Long A's are producing.

Several small bass are showing up for anglers tossing crankbaits and suspending jerk baits around gravel banks.

Some anglers are still working jig and craw combos around rocky banks and on some main lake ledges. Carolina rigged crawfish are also fooling a few fish.

Spinnerbaits worked slowly around visible stumps and exposed crappie beds have also produced some smaller bass.

A few fish were schooling over shallow sandbars and chasing shad at times. Some fish were hitting surface baits at times but shallow running crankbaits were the most effective.

Although not many boats are pursuing them, late fall catfish along the main river channel are worth the trip as some dandies have been taken lately.

Weather, namely cool fronts and wind, are factors this time of year as late fall fishing can change quickly. It can go from good to bad and vice-versa.

Also check out our past:
Kentucky Lake Fishing Reports

Steve McCadams is one of the nation's best known Crappie Fishermen and a full time resident of Paris, Tennessee. Steve is also a professional hunting and fishing guide here in the Paris Landing area.