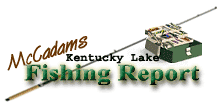 Brought to you by: Fishtale Lodge
Steve McCadams'
Kentucky Lake Fishing Report for:
November 16th, 2007
Good reports continue to come in from fall fishermen who have found both bass and crappie patterns holding up well.
With the recent cold front and high winds, anglers may see a brief hiatus, however, as temps are expected to plunge from the mid 70ís down to around 30 degrees some nights. Still, the weatherman indicates conditions will steadily improve going into the weekend and moderate early next week with predictions back to the low 60ís by Monday.
Recent rains really drenched the area and runoff continues to enter the Tennessee River, keeping Kentucky Lake some 18-inches or more above winter pool elevation.
Present lake stages in the New Johnsonville area are 355.8. Downstream at Kentucky Dam readings are in the 355.7 range.
The reservoir is up a few inches from last week at this time and showing some stained water in the upper ends of bays in Big Sandy while most of the main Tennessee River remains clear.
Surface temperatures were up earlier in the week but fell due to the cold front that arrived on Thursday. Presently, surface temps are in the 55 to 58 degree range but will likely fall several degrees going into the weekend.
Bass action has been good as anglers work the big bays on the east side of the lake where abundant grassbeds have attracted baitfish all fall. The bass have been running the shad and competing with a few white bass and stripers as the feeding freenzies take place.
Most fish have been on the outside of thick grass where isolated clumps of grass are submerged but offering good cover to roaming bass and baitfish.
Tossing a variety of lures has produced such as chrome colored rattle traps, spinnerbaits, shallow running crankbaits in shad colored variations, and some floating fluke style worms as well.
Gravel and rock banks around roadbeds have also been popular as have some boat docks and bridge piers at times.
Crappie were hitting good late last week and earlier this week as some rainy days with cloud cover and light winds really seemed to stimulate the bite. Good numbers were taken in the 9 to 13 foot range where submerged stakebeds and brushpiles were holding good size fish.
Producing best have been jigs tipped with Berkley Power Bait or minnows. A variety of colors have worked ranging from pink and chartreuse skirts to orange leadheads with white and yellow skirts. Some blue and white and also been popular at times.
A lot of fish are in the 11-inch and larger range. So, some dandy ones have been biting with a few eclipsing the one-pound mark.
The fish appear to be quite healthy with bluging bellies indicating the forage base is alive and well on Kentucky Lake.
For The Lake Barkley Report
Click Here
Also check out our past:
Kentucky Lake Fishing Reports
Steve McCadams
Steve McCadams is one of the nation's best known Crappie Fishermen and a full time resident of Paris, Tennessee. Steve is also a professional hunting and fishing guide here in the Paris Landing area.