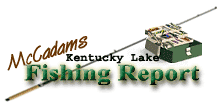 Brought to you by: Fishtale Lodge
Steve McCadams'
Kentucky Lake Fishing Report for:
November 14th, 2008
Kentucky Lake anglers had another decent week of fall weather as mild temperatures and cooperative winds worked in favor of fishermen stalking both bass and crappie.
It appears rain and cooler weather are in the forecast as the weatherman may turn his back on anglers for a few days and favor hunters.
Presently, Kentucky Lake's elevation is holding steady at both Kentucky Dam and New Johnsonville as not much rain has entered the picture for several weeks. TVA is projecting stable lake levels going into the weekend with a forecast of 355 at Kentucky Dam and readings of 354.8 upstream at New Johnsonville.
Water color remains quite clear. Surface temperatures have cooled some compared to last week with readings in the 55 to 58 degree range. Watch for surface temps to fall fast by late this weekend and early next week.
Crappie action has been decent this week with some good size ones still coming from manmade stakebeds and brush piles in that 9 to 12 foot depth range. At the same time some anglers in the Paris Landing sector were stalking main lake ledges and finding some scattered fish lingering around structure in the 13 to 15 foot zone.
Up Big Sandy and in West Sandy a few fish were coming from stakebeds and brush piles in 6 to 9 foot depths were anglers were vertical fishing jigs right down in the cover.
Baits of choice have been small jigs with popular colors being blue/white, clear with sparkle, lime/white, black/chartreuse, and some aqua blue with red metal flake, just to name a few.
Live minnows seemed to have lost some appeal lately and while some fish are still taking a minnow or a jig tipped with a minnow the fish have shown a preference for a small jig over the live bait lately.
Some pretty good black crappie continue to show up and several have eclipsed the one-pound mark lately with some fish even reaching the slab status. Numbers seem to be down somewhat as not many limits are being reported, although size of fish has been pretty good all fall.
Bass anglers continue to toss spinnerbaits around grassbeds with positive results. Crankbaits in the chrome and Tennessee shad colors are working well around gravel banks and points.
Those shallow roadbeds, boathouses, piers, and exposed crappie beds are also holding some bass.
Some surface action was still available this week as white bass, yellow bass, and some aggressive Kentucky spotted bass were sharing the sprints of feeding frenzies with largemouth as they chased shad over shallow mud flats.
Tossing chrome/blue colored Rattle Traps has worked well on the schooling fish around both grass and shallow flats.
Fall fishing continues to hold up well, although not many people have been on the lake lately.
For The Lake Barkley Report
Click Here
Also check out our past:
Kentucky Lake Fishing Reports
Steve McCadams
Steve McCadams is one of the nation's best known Crappie Fishermen and a full time resident of Paris, Tennessee. Steve is also a professional hunting and fishing guide here in the Paris Landing area.