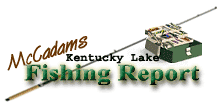 Brought to you by: Fishtale Lodge
Steve McCadams'
Kentucky Lake Fishing Report for:
November 14th, 2003
Cooler weather has entered the picture for anglers this week for Kentucky Lake anglers. However, despite a cold front and some brisk north winds, the weatherman indicates moderate temperatures are on the horizon so conditions should return to normal early next week.
Observed lake levels in the Paris Landing area continue to hold near the low winter pool stage. Elevation was in the 354.4 range this week. Similar readings were reported for both New Johnsonville and Kentucky Dam.
Watercolor remains relatively clear, although some stain was present in shallow bays and near points this week as wind had stirred up some sediments, along with a slight runoff from light rains.
Surface temperatures have cooled some from last week. Temperatures were in the 58 to 62 degree range and will likely cool even more over the weekend.
Crappie continue to bite and action has been good for anglers working the midrange depths of 7 to 11 feet. Stakebeds , brushpiles, and stumprows have been producing fish this week in shallow areas.
Jigs tipped with minnows have been working well. Popular colors continue to be skirts with some chartreuse variations, along with dull colors such as dark gray and red, blue and white, and some clear with sparkle scales.
Watch for action to also improve on the deeper main lake ledges in the weeks ahead. As surface temperatures cool the crappie will fall back to deeper water where shad are more abundant.
Basss anglers are still finding fish relating to rock and gravel banks. Tossing crankbaits and jigs have produced some smallmouth and Kentucky spotted bass this week, along with some largemouth taking spinner baits around wooded cover.
Shallow gravel banks and roadbeds are good choices during low water periods, along with bridge piers and boathouses with docks.
For The Lake Barkley Report
Click Here
Also check out our past:
Kentucky Lake Fishing Reports
Steve McCadams
Steve McCadams is one of the nation's best known Crappie fishermen and a full time resident of Paris Tennessee. Steve is also a professional hunting and fishing guide here in the Paris Landing area.