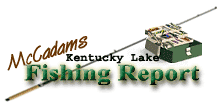 Brought to you by:




November 12, 2010

ANGLERS BENEFIT FROM GREAT WEATHER…CHANGE ON THE WAY


Nice weather has been the norm this week as this November fishing gig on Kentucky Lake is worthy of pursuit.

Light winds and above average temperatures have hung around for several days now and anglers are taking advantage of it. Conditions are supposed to change this weekend but no one can complain after this week's weather.

Hefty stringers of crappie have been caught this week and bass action has been good too. Many fishermen continue to overlook the late fall fishing.

Temperatures have been in the low to mid 70's and stable weather has been in place for anglers who like fishing open water areas or boating up and down the lake without having to worry about whitecaps.

Surface temps cooled some this week and are now in the 56 to 58 degree range. Water remains clear as no rain has entered the picture for quite some time.

Stable lake levels continue as the reservoir has been resting near winter pool elevation. Lake levels at Kentucky Dam are in the 355.1 range. Upstream at New Johnsonville readings are slightly lower at 354.9.

Crappie showed some improvement this week as numbers increased for anglers working stakebeds and brushpiles in a variety of depths.

Manmade structure in the 8 to 13 foot depth range was holding some nice size fish. Average grade was good with a few fish in the 1 ¼ to 1 ½ pound range.

Jigs tipped with minnows were working well for anglers vertical fishing around the submerged structure. Live minnows were working too.

Popular color combinations have ranged from blue/chartreuse to motor oil with gold glitter. The clear water sometimes required dull colors but some color combos are producing, especially when tipped with various scent attractants.

Deeper ledges in the main lake are giving up some fish too. Depths of 14 to 17 feet were producing some scattered fish in the mouth of Big Sandy.

Bass perked up this week with increased activity around shallow flats and rocky points. Shad schools were abundant in some shallow flats and that attracted largemouth and some scattered schools of white bass that were busting bait on the surface.

Rattle trap style lures in the blue/chrome and Tennessee shad were appealing to bass that were actively pursuing shad roaming over main lake flats and the shallow side of drop-offs.

Shad colored jerk baits and crankbaits worked around gravel banks and rip-rap were working too. Some structure in shallow water was holding bass and anglers tossing spinnerbaits in the blue/chartreuse with gold willow leaf blades were fooling a few.

It has been a good week for Kentucky Lake anglers as those light southwest winds have been a nice replacement for a stubborn October. It appears cooler temperatures and increasing chances of rain will enter the picture as this weekend.


Also check out our past:
Kentucky Lake Fishing Reports

Steve McCadams is one of the nation's best known Crappie Fishermen and a full time resident of Paris, Tennessee. Steve is also a professional hunting and fishing guide here in the Paris Landing area.