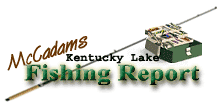 Brought to you by: Fishtale Lodge
Steve McCadams'
Kentucky Lake Fishing Report for:
November 12th, 2004
Lake levels have been falling all week on Kentucky Lake. The drop in elevation comes after a week of rising lake stages that saw the reservoir jump some three feet in the aftermath of heavy rains.
Anglers will see falling lake stages throughout the weekend too as TVA pulls the reservoir back down to its winter drawdown curve. Forecasts for the weekend at New Johnsonville will be 355.1. Downstream at Kentucky Dam the lake will be slightly lower with predictions in the 354.9 range there.
Surface temperatures have cooled from last week at this time by several degrees. Most of the lake is in the 61 to 63 degree range but continues to cool each week.
Watercolor is clearing throughout much of the Big Sandy and Paris Landing area as the falling lake stages have pulled much of the dingy water out of shallow bays.
Crappie anglers are finding action improving on make lake ledges this week, which is probably a reaction of the fish to falling lake levels. A few fish were taken in the 16 to 20 foot depths this week by anglers using tightline, bottom-bumping techniques where both jigs and minnows were used.
There are still some fish lingering in brush piles, shallow stump beds, and stakbeds too. Anglers were finding some scattered fish in the 8 to 11 foot zones but most fish appeared to be close to deep water.
Bass action has been fair with several fish still relating to rock and gravel banks, roadbeds, and rip-rap levees. Shad colored crankbaits have worked well, along with some spinnerbaits tossed around grass and shallow logs and stumps.
A few fish were taken on Carolina rigged worms too around sloping points adjacent to deep water.
After a week or two of changing lake levels, look for Kentucky Lake to fall back near its winter pool mark and remain stable unless some heavy rains return.
For The Lake Barkley Report
Click Here
Also check out our past:
Kentucky Lake Fishing Reports
Steve McCadams
Steve McCadams is one of the nation's best known Crappie Fishermen and a full time resident of Paris, Tennessee. Steve is also a professional hunting and fishing guide here in the Paris Landing area.