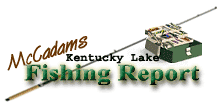 Brought to you by: Fishtale Lodge
Steve McCadams'
Kentucky Lake Fishing Report for:
November 11th, 2005
Cooler weather and north winds may now be in the picture but fall fishing is alive and well. Anglers have made the most of the warm temperatures thus far in November and continued to test the water on a regular basis.
Meanwhile, record high temperatures were set this week on two separate days with the mercury climbing above the 80-degree mark.
Surface temperatures have lingered in the 58 to 61 degree range this week but jumped a few degrees higher at midweek.
Water levels are up a few inches from last week at this time. Elevation at Kentucky Dam is 355.4. Upstream at New Johnsonville the observed elevation at midweek was 355.2. The reservoir is stable but will likely fall some in the days ahead.
A much-needed rain entered the picture last weekend and again at midweek but very little runoff has entered the reservoir. Therefore, not much stained water is present in either the Big Sandy or Tennessee River.
High winds a few days have hampered anglers and kept most boaters in the bays.
Crappie action is still holding up with decent stringers coming from 7 to 13 foot depths where manmade brushpiles and stakebeds are located. Several midrange stumps and deep ledges have also produced this week.
Some anglers were finding scattered fish in the 15 to 18 foot zones on main lake ledges. Both live minnows and jigs have worked well with several anglers continuing to tip jigs with minnows.
Popular color choices have been orange and chartreuse, pink and pearl, chartreuse with red glitter, and some red and white combinations.
The approaching cold front may have a temporary effect on the shallow fish but look for action to resume by the weekend if stable weather returns and winds die down and allow anglers to move around.
Bass action has continued to hold up well too. A variety of patterns have been working. Crankbaits along rock points and gravel have worked as have spinnerbaits tossed around shallow logs and stumps or exposed crappie beds.
Some topwater action was working around very shallow grass too with some anglers casting jig and pig combos on main river points for smallmouth. Carolina rigged worms were producing some fish as well.
For The Lake Barkley Report
Click Here
Also check out our past:
Kentucky Lake Fishing Reports
Steve McCadams
Steve McCadams is one of the nation's best known Crappie Fishermen and a full time resident of Paris, Tennessee. Steve is also a professional hunting and fishing guide here in the Paris Landing area.