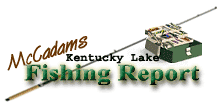 Brought to you by: Fishtale Lodge
Steve McCadams'
Kentucky Lake Fishing Report for:
November 10th, 2006
Kentucky Lake has been good to anglers this week as some warm weather and light winds have offered excellent fall fishing conditions. The week started off with some rain but above average temperatures and sunny days followed and fishermen have been out in force.
Observed elevation going into the weekend will be 354.9 at Kentucky Dam and 354.8 upstream at New Johnsonville. Thatís up a few inches from last week at this time.
Surface temperatures rebounded a degree or two as well with readings in the 54 to 57 degree range at midweek. Water color remains clear in the Paris Landing area and throughout most of the Big Sandy. Only a slight stain was present in the main Tennessee River.
Crappie action improved this week after a short slowdown late last week. The fish have been on the move, however, as many of the midrange stakebeds and brush piles found in that 9 to 12 foot range were producing fewer fish compared to last week.
Most of the crappie have fallen back to deeper zones this week as action improved dramatically in the 16 to 25 foot depths. The main lake ledges were giving up the bulk of the catches this week as the deeper sides of drop-offs were the most productive zones.
I returned to midrange fish attractors late last week and earlier this week that had been producing well only to find the fish had vacated the premises. Although a few scattered fish were taken on jigs, numbers declined drastically in that depth range compared to a week ago.
Often times crappie will pull back to deeper water in the aftermath of cold fronts and during elevation drawdowns but just why they decided to fall back deeper this week is somewhat of a mystery. Yet the fish get to make all the rules.
Double hook bottom bumping rigs armed with minnows were producing well as were jigs fish vertically along ledges by both spider rig style anglers and single pole presentations. Tipping jigs with minnows continues to produce as did jigs tipped with Berkley Power Bait.
Popular colors were red and chartreuse, yellow and chartreuse, blue and pearl and some clear skirts with sparkle, just to name a few.
Some good numbers of fish were showing up as light winds allowed anglers to slowly work the bait in the open water areas where fish were schooled around deep structure.
A few bass reports were coming in from anglers working gravel and rock banks. Shad colored crankbaits, suspending jerk baits, and some flukes were producing. Shad continue to show up in the lowlight conditions along gravel banks with a few fish taking topwater lures.
Carolina rigs worked slowly on sloping points were working too as were jig and pig combos and big spinnerbaits worked over grass.
Cooler weather is expected to return late this weekend and into next week but water for another nice forecast from the weatherman in the weeks ahead and take advantage of it. This fall fishing is still producing.
For The Lake Barkley Report
Click Here
Also check out our past:
Kentucky Lake Fishing Reports
Steve McCadams
Steve McCadams is one of the nation's best known Crappie Fishermen and a full time resident of Paris, Tennessee. Steve is also a professional hunting and fishing guide here in the Paris Landing area.