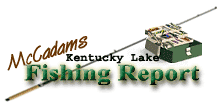 Brought to you by: Fishtale Lodge
Steve McCadams'
Kentucky Lake Fishing Report for:
November 9th, 2007
GOOD WEATHER RETURNS FOR FALL FISHING
Anglers had a bit of summer, fall and winter weather mixed in this past week here on Kentucky Lake.
I went from no coat to an overcoat earlier this week as temps were nice and warm last weekend and continued through Monday but Tuesday saw a dramatic change as a cold front descended. High winds on Monday from the southwest delivered thunderstorms late that afternoon and by Tuesday winds switch to the northwest and cold weather knocked down the door Wednesday morning.
Yet the inclimate weather was short lived as fall-like conditions eased back on the scene by Wednesday afternoon, making it a beautiful day on the lake with decent fishing and beautiful colors along the shorelines now making their presence known.
Presently, lake elevation at both Kentucky Dam and upstream at New Johnsonville is in the 355.9 range and falling slowly. Lake levels have been up and down a few inches this week but no drastic changes have occurred.
The reservoir is still resting about a foot above normal for this time of year. Watch for falling lake levels to occur going into the weekend and into next week as TVA pulls the lake back down toward winter pool.
Surface temperatures have cooled as some cold nights have had an influence. Readings are in the 53 to 57 degree range.
Water color remains clear in the main lake with some slight stain in major bays and feeder creeks. The upper Big Sandy has a dingy color as does West Sandy in some areas, Elsewhere, most bays along the Tennessee River remain clear.
Crappie have maintained their presence in midrange depths this week and while action slowed down some due to the cold front and high pressure at midweek, action resumed the last few days and should continue to improve as good weather is in the forecast.
Fish were finicky a few days and bites were light as jigs tipped with minnows or scent attractants seemed to entice some stubborn bites. Most of the crappie are holding tight to structure and you really have to bump the cover and hold the bait still before detecting the light bites.
Jigs in the 1/16 to 1/32-ounce size are producing in such colors as black and chartreuse, dull brown and black variations, along with some hair jigs in the blue and white, silver, and orange and brown.
Some of the loud colors or fluorescent heads have been less appealing in the clear water and high skies it seems.
With nice weather on the way and stable conditions entering the picture watch for crappie to return to a better biting mood going into the weekend and into next week.
In addition to manmade structure in the 9 to 13 foot zones producing fish it appears several crappie have also dropped back to some main lake ledges in the 17 to 22 foot range this week.
Some decent catches were reported there as anglers used both bottom bumping, double-hook minnow rigs and tightlined jigs around deep stumps and brush along the drop-offs.
Bass action has been pretty good overall but the bite fell off drastically on Tuesday and Wednesday as the shallow fish seemed to shut off for a few days during the high pressure that stayed in the aftermath of the cold front.
Look for action to resume, however, as temps are expected to be in the low 60ís for several days and that should see bass bounce back.
The topwater bite had been pretty good in grassbeds as fish were chasing shad and busting the surface on the parameter of grassy areas. Tossing jerk baits that mimicked shad have been producing such as Pop-Rs, Thundersticks, and Devilís Horse.
Shallow running crankbaits have also been good choices as white bass and largemouth are running together in pursuit of the shad buffet. Chrome colored rattle traps, sliver and blue, bone, and Tennessee Shad have been popular color choices.
Floating fluke style worms have worked too as have some spinnerbaits thrown around submerged grass.
And gravel banks are still giving up bass too as roadbeds and big chunk rock have been appealing. Some shad are showing up on the late afternoon gravel banks where an hour or so of topwater action occurs.
Several shallow flats are still seeing surface action at times as the fish push baitfish up shallow and chase them to the surface. Continue to watch for the gulls as they will lead you to the feeding frenzies form both largemouth and white bass this time of year, not to mention the relentless bites from the small yellow bass which are quite abundant.
For The Lake Barkley Report
Click Here
Also check out our past:
Kentucky Lake Fishing Reports
Steve McCadams
Steve McCadams is one of the nation's best known Crappie Fishermen and a full time resident of Paris, Tennessee. Steve is also a professional hunting and fishing guide here in the Paris Landing area.