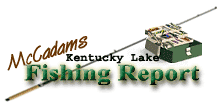 Brought to you by: Fishtale Lodge
Steve McCadams'
Kentucky Lake Fishing Report for:
November 4th, 2005
Fall fishing continues to live up to its reputation as the most underrated and overlooked season of them all.
After a brief cool spell on Tuesday, beautiful weather returned on Wednesday with sunny skies and above average temperatures giving anglers excellent fishing conditions here in the Kentucky Lake area.
November has entered the fishing scene with warm days full of light winds, extending the fine conditions that have prevailed since late September.
Crappie continue to hit good with anglers scoring some hefty numbers while vertical fishing jigs and minnows over midrange brushpiles and stakebeds in 6 to 13 foot zones. And, a few anglers continue to pull fish from the deep sides of main lake sandbars where depths of 16 to 20 feet have accounted for some decent stringers as well.
Kentucky Lake had been falling slowly this week and is now back down around the winter pool mark of 354. There have been a few days when minor fluctuations saw lake levels increase a few inches but overall, the reservoir is stable this week and hovering down around its winter pool stage.
Dry conditions continue throughout the TVA valley so not much runoff has entered the Tennessee River system this fall. And, the lack of rain continues to keep clear water conditions in the picture here in the Paris Landing area.
Both Big Sandy and the Tennessee River areas remain clear.
Surface temperatures have been in the 57 to 59 degree range this week.
Crappie anglers will likely see action remain steady and productive for the next few weeks, barring any drastic cold fronts that might send baitfish and crappie to deeper zones.
Bass fishing has also held its own with several nice fish coming from rocky points and gravel banks where shad are working. Some topwater action remains in the picture as anglers toss buzzbaits and jerk baits along open shorelines where baitfish are present.
Several fish have been taken on spinnerbaits and shallow running shad colored crankbaits fished slowly around exposed stumps, logs, and crappie beds.
A few smallmouth have been taken along rip-rap and roadbeds, along with some spotted bass running shad around bridge piers.
Some white bass are also busting the surface and chasing shad over shallow sandbars.
For The Lake Barkley Report
Click Here
Also check out our past:
Kentucky Lake Fishing Reports
Steve McCadams
Steve McCadams is one of the nation's best known Crappie Fishermen and a full time resident of Paris, Tennessee. Steve is also a professional hunting and fishing guide here in the Paris Landing area.