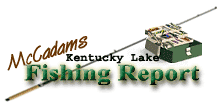 Brought to you by: Fishtale Lodge
Steve McCadams'
Kentucky Lake Fishing Report for:
November 3rd, 2006
From the fishing scene comes another week of mixed weather that started off warm and ended up cool. Last weekend and earlier this week crappie anglers were continuing to enjoy success fall fishing and bass action was good too.
Cooler weather entered the picture at midweek and some misty days teamed up with brink northwest winds that made it tough on anglers for a few days. Most anglers are hoping for a warming trend by early next week and action should resume quickly for bass and crappie anglers who dodged the inclimate weather at midweek.
Lake levels have been relatively stable this week. Observed elevation at Kentucky Dam was 355 at the weekend approached. Upstream at New Johnsonville TVA projected an elevation of 354.9 going into the weekend.
Surface temperatures cooled some from last week at this time and have lingered in the 53 to 57 degree range this week. Look for a decline of a degree or two by this weekend due to cold nights.
Water color remains clear throughout most of the reservoir.
Crappie action was holding up well early this week as fish remained active in the 9 to 13 foot depth range. A few fish were scattered in the 7-9 foot range but somewhat deeper stakebeds and brushpiles seemed more productive.
A combination of jig colors ranging from red and chartreuse to blue and pearl, yellow and chartreuse were producing. Several fished seemed to favor unpainted leadheads with dull colored skirts at midday when bright sun was a factor but lowlight conditions saw them get back to bait presentations with some louder colors.
Tipping leadheads with minnows has also worked well with some fish preferring the smaller bait presentation of 1/16-ounce heads with no skirt. The live minnows are been productive all fall for many anglers.
Some days crappie have been finicky early in the morning only to turn on by late afternoon. Tipping jigs with Berkley crappie nibbles has also paid dividends.
Deeper depths such as 16 to 20 feet were still producing some scattered crappie as anglers worked bottom bumping rigs around stumps and brush.
Bass were hitting shad colored crankbaits fished slowly along roadbeds and rocky points. Some fish were holding in the grass too and anglers slow rolling big spinnerbaits around deeper patches of vegetation were landing good fish.
A few smallmouth were holding on main lake humps where rock piles or other structure was located near deeper water. Carolina rigged worms and big crankbaits were producing on the humps and main lake ledges.
Some jerk baits such as suspending Rogues and Slugo style plastic baits were accounting for some finicky fish. Those windy points and gravel banks were holding fish but a lot of the bass appeared to be holding off the shallow shoreline and out in somewhat deeper water.
For The Lake Barkley Report
Click Here
Also check out our past:
Kentucky Lake Fishing Reports
Steve McCadams
Steve McCadams is one of the nation's best known Crappie Fishermen and a full time resident of Paris, Tennessee. Steve is also a professional hunting and fishing guide here in the Paris Landing area.