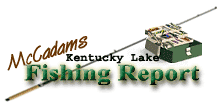 Brought to you by: Fishtale Lodge
Steve McCadams'
Kentucky Lake Fishing Report for:
November 2nd, 2007
GREAT WEATHER EXTENDS FALL FISHING ACTION
Fall fishing has held up well this week for both bass and crappie anglers as beautiful weather continued to shine on Kentucky Lake anglers. Light winds and warm temperatures this week were a welcomed change from cold winds and rain that dominated last week's fishing scene.
Surface temperatures continue to cool and the last few days have rested in the 65 to 68 degree range. Look for water temps to cool slightly in the week ahead.
Water color has some stain in the upper ends of bays since last week rains and wind but most of the reservoir is clear.
Observed lake elevation at Kentucky Dam is 356.8 and up a few inches from last week at this time. Upstream at New Johnsonville the reservoir was slightly lower with readings in the 356.6 range.
TVA is forecasting stable lake levels going into the weekend but low for a gradual drawdown beginning early next week, barring any heavy rains, as the reservoir is some 18-inches above normal level for early November.
Crappie were hitting good this week with successful reports coming in from anglers fishing both deep ledges on the main lake and midrange structure such as stakebeds and brushpiles.
Deep ledges have been producing some fish as finding stumps and brush in the 18 to 24 foot depths has been holding fish. Tightlining double hook rigs with both jigs and live minnows has worked well.
There have also been some good catches coming from 9-14 foot depths where manmade fish attractors continue to produce. Vertical presentations of 1/16 to 1/32-ounce jigs tipped with minnows have been productive.
Popular colors have been chartreuse and red, black and chartreuse, with some blue and while. Dull colored leadheads have worked well on the bright days and unpainted leadheads tipped with minnows have fooled some finicky fish into hitting.
Action has been best on the days when cloud cover was present and some ripple was on the water as the bites were quite light on days when stagnant winds and high skies were present.
Overall crappie action has been good, however, as the fish are healthy and putting on the feed bag as cooler conditions enter the picture. There are several fish in the ¾ to 1 ¼ -pound range showing up too.
The percentage of black crappie in the daily catch appears to increase each year here on Kentucky Lake, a likely result of clearing water color over the years.
Bass action has been good and patterns are similar to the previous weeks. Crankbaits on rocky banks, points, roadbeds, and bridge piers have produced well as have spinnerbaits and worms worked around grassbeds.
Some jerk baits were still producing too as the topwater bite was good a few days when cloud cover was present. A lot of bass are running shad up on shallow flats where some white bass and stripers are present.
Watch for surface action on the shallow sandbars or observe the feeding frenzies of gulls and you'll find the baitfish.
Some finesse baits have worked well around aquatic weeds as have chrome and blue colored rattle traps.
A few anglers are working Carolina rigged worms around sloping points and main lake ledges with fair results but the shad colored variations of crankbaits and spinnerbaits or jerk baits around grass have been the most productive.
For The Lake Barkley Report
Click Here
Also check out our past:
Kentucky Lake Fishing Reports
Steve McCadams
Steve McCadams is one of the nation's best known Crappie Fishermen and a full time resident of Paris, Tennessee. Steve is also a professional hunting and fishing guide here in the Paris Landing area.