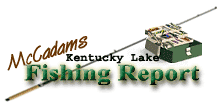 Brought to you by: Fishtale Lodge
October 8, 2009

Fall fishing this past week on Kentucky Lake had a variety of weather patterns at a time when stability is the norm. Yet anglers battled cool fronts, thunderstorms, and several days of high winds that played havoc with anglersí intentions as to bass and crappie patterns.

Lake levels did some changing at midweek when heavy rains delivered some runoff and caused the reservoir to rise a few inches. However, TVAís forecast going into the weekend shows a slow fall resuming.

Presently, elevation at Kentucky Dam and New Johnsonville is in the 355.5 range, which is down a few inches from last week at this time.

Water color has some stain in the Tennessee River portion while most of the Big Sandy is relatively clear.

Surface temps this week have been in the 68 to 71 degree range.

Bass action has held up well this week despite some windy days that hampered anglers attempting to fish open water flats and grass beds.

Some good stringers were taken off gravel banks and points where anglers were tossing shad colored crankbaits. Popular choices have been Banditís Tennessee Shad, Root Beer, and black/chartreuse.

Chrome colored Rattle Traps and Bomberís Long A along with Smithwickís suspending Rogue have been some other choices that mimic the shad delights.

Surface action improved along gravel banks and shallow grassbeds this week as fish showed more interest in busting surface schools of shad around grass while the late afternoon and early morning midge hatch was attraction attention as well.

Pitching jigs and crawfish around boat docks and piers have also produced lately as have rip-rap rock levees and roadbeds. Shallow running crankbaits, spinnerbaits and some Carolina rigged craws and lizards are producing along sloping gravel points.

A few scattered smallmouth were taken this week from deeper ledges and sloping gravel banks along the Tennessee River where anglers were tossing swim baits and curly tail grubs.

Current was present earlier in the week as TVA was pulling a lot of water through Kentucky Dam but that has diminished the last few days.

Shallow flats are appealing to some schooling bass and the gulls will help you find those schools of baitfish activity.

Crappie action slowed some this week, due in part to high winds that limited access to many open water areas. Fish seemed more finicky and scattered compared to last week and overall numbers were down.

If weather stabilizes soon look for activity to increase in the midrange to shallow zones. Depths of 9 to 13 feet have produced a few fish this week but not many fish are relating to structure in shallow venues.

Anglers working the deeper ledges in Big Sandy have scored more consistent catches the last few days. Dunking jigs along the submerged brush in depths of 12 to 15 feet have produced and a few fish are even deeper.

Jigs tipped with minnows seemed to work best at midweek while some anglers were using minnows only on double hook tight line bottom bumping rigs.

Color variations in the black/chartreuse, blue/pearl, chartreuse with red glitter, and clear with silver sparkle have been a few popular choices. Tipping with Berkley Power Bait has helped too.

Hopefully normal fall weather will enter the fishing scene this week with some light and variable winds, cool mornings and mild temps for the afternoons.

For The Lake Barkley Report
Click Here
Also check out our past:
Kentucky Lake Fishing Reports
Steve McCadams
Steve McCadams is one of the nation's best known Crappie Fishermen and a full time resident of Paris, Tennessee. Steve is also a professional hunting and fishing guide here in the Paris Landing area.