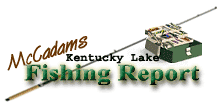 Brought to you by:




October 7, 2010

NICE FISHING RETURNS AFTER MEAN COLD FRONT

Kentucky Lakeís fishing scene has had a potpourri of weather patterns the last week or so, a scenario thatís more like spring than fall. However, great weather has returned and by midweek normal temps and light winds were the norm, giving fishermen those jacket mornings and shirt sleeve afternoons.

A cold front last weekend really threw a curve to anglers who battled gale force north winds and falling temperatures. For several days whitecaps danced in the open water as the wind switch to the northeast, bringing high skies and tough conditions.

Both crappie and bass action has improved since the cool snap but for a few days fish were downright finicky. Those high pressure days with blue skies and sunny conditions are great for walks in the park, picnics, and visits to the zoo but not in the best interest of fishermen trying to formulate patterns from stubborn fish.

Surface temps dropped earlier this week as the cold nights had an influence. Readings were in the 67 to 69 degree range, which is down several degrees from a week ago. Watch for a slow rebound this weekend at the water warms back in the low 70s.

Lake levels remain low and are now resting at winter pool. It bears repeating that close attention should be given to channel markers. Unless you know the water avoid the shortcuts as even main lake areas can be troublesome this time of year. Those shallow stumps and sandbars are taking a toll on lower units and props lately as a lot of the nonresident bass anglers fishing tournaments here are finding out.

Elevation is 354.8 in the New Johnsonville area. Downstream at Kentucky Dam readings are in the 355 range. Low lake levels will remain for a spell since no rain has fallen in the region.

Water color remains clear over most of the reservoir. About the only stain exists where high winds have stirred up some shallow bays and shoreline sediments.

Itís so dry even fishermen want it to rain. Cloudy days have been rare and a rainy, overcast morning is long overdue.

Crappie have been hitting pretty good for anglers working structure in 9 to 12 foot zones. Stakebeds and brushpiles in that depth range are holding a few fish.

Iíve found a few fish this week in 7 to 9 feet but itís been a one-here, two-there scenario. Some keeper fish are holding in the midrange depth zones as a lot of baitfish are moving about.

Some deeper ledges are still holding on to a few fish too as brush and stumps on the edge of drop-offs and favoring the deeper side of the ledges have produced. I found some nice slabs in the 15 foot depth a few days but action was inconsistent.

Jigs tipped with minnows have been the bait of choice. A few fish are taking just plain jigs or skirts tipped with Berkley Power Bait but the overall bite has been finicky and seems the live minnow has enticed some stubborn crappie into biting.

Popular colors have been white, chartreuse, and dull red leadheads with green or gold colored skirts. A few days just plain unpainted leadheads have appealed armed with dull colored skirts, a likely result of the clear water conditions.

Bass fishermen visiting the area this fall have been lost without the aquatic vegetation that was present last year at this time. There is very little grass in the Paris Landing area but some short fragments can be found on shallow sandbars.

Milfoil and other vegetation is present south of New Johnsonville in the Birdsong flat and on toward Perryville. Bassers in this area are pretty much banging the banks with shad colored crankbaits and various suspending jerk baits around sloping gravel points and shorelines.

Several fish are still relating to main lake ledges where bigger deep diving crankbaits, Texas and Carolina rigged worms are working. Hopping a jig has also been producing some fish as have some swim baits when fish are schooling on open water sandbars and running shad.

Backs of bays have a lot of shad roaming and tossing chrome variations of Bill Lewis Rattle Traps, Strike King red-eyed shad, and shallow running Bandit and Rapala crankbaits have accounted for some strikes as have gold, willow-leaf spinnerbaits hurled over mudflats.

Shallow roadbeds and shady boat docks were providing some cover for shallow fish where anglers are pitching jigs, imitation crawfish, and casting shallow running crankbaits.

Surface action has been slow to materialize as the high skies are likely a contributing factor to the slow bite for topwater. Some foggy mornings have lured some baitfish to shallow gravel; however, as midge hatches have attracted a few fish in the early morning and late afternoon hours.

With low lake levels comes exposed stumps and manmade crappie beds along many shallow shorelines and bays and some bass are holding on the visible cover but those areas have been pounded lately by both fun fishermen and tournament anglers that have been out in force.

Catfish remain along the main river channel in depths of 20 to 30 feet. There has not been much current lately but some fish are still relating to the bridge piers at Paris Landing.

A few crappie fishermen are tying into catfish on a daily basis as the fish move up toward shallow water that has cooled considerably in the last week or so.


Also check out our past:
Kentucky Lake Fishing Reports

Steve McCadams is one of the nation's best known Crappie Fishermen and a full time resident of Paris, Tennessee. Steve is also a professional hunting and fishing guide here in the Paris Landing area.