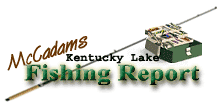 Brought to you by: Fishtale Lodge
Steve McCadams'
Kentucky Lake Fishing Report for:
January 7th, 2005
If you're an angler you probably like the recent rash of warm weather. Several sportsmen have quit deer and duck hunting and gone to fishing. A few bass anglers were catching some this past week but crappie anglers were reporting action slow but improving.
After the cold spell during the Christmas holidays where frigid temperatures caused a quick decline in surface temperature, Kentucky Lake had a shad die-off. That's not unusual as the threadfin shad are vulnerable to quick temperature changes and go into shock when caught in shallow water.
In the aftermath of shad kills the fishing can be tough for bass, crappie, and sauger anglers but action is improving since the extended period of warm weather.
One sauger report came in this week.
"I went sauger fishing this afternoon for a couple of hours by myself and caught 18 sauger but only had seven that met the 15-inch minimum length limit," said Jim Perry of Buchanan. " I caught them on the main river channel fishing 33 to 34 feet deep. I was vertical fishing one-ounce yellow hair jigs with a stinger hook and minnow."
For The Lake Barkley Report
Click Here
Also check out our past:
Kentucky Lake Fishing Reports
Steve McCadams
Steve McCadams is one of the nation's best known Crappie Fishermen and a full time resident of Paris, Tennessee. Steve is also a professional hunting and fishing guide here in the Paris Landing area.