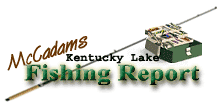 Brought to you by:





October 6, 2011

GOOD FISHING RETURNS IN AFTERMATH OF COLD FRONT…LAKE LEVELS NEAR WINTER POOL


Kentucky Lake's fall fishing scene had a mixture of weather last week but it appears nice conditions chased away last weekend's cold front and things are back to normal as pretty days with warm sunshine and light winds are back in the picture.

Anglers rarely have to battle cold fronts and gale winds this time of year but late last week a dry cold front that felt like it was blowing right off a polar ice cap roared deep into Dixie, dropping temperatures way below average throughout the weekend. By early this week, however, warm days returned and since then temperatures have been somewhat above average as clear, bright days have lingered.

While the bright days and light winds have been beautiful on the lake, fishermen are yearning for some cloud cover and perhaps a slight chop on the placid waters. Often times the high pressure days deliver finicky moods to stubborn fish whereas the approaching side of a low pressure stimulates activity.

Surface temperatures cooled slightly since last week with readings now in the 73 degree range in the main lake and 71 in the shallow bays. Warm days now upon us will likely hold on to that temp range for a few days.

Actually, surface temps dropped into the upper 60's last Saturday for the first time since early April but the return of warm weather quickly pulled temps back into the low 70's. Water color remains clear as no rain has fallen in the region in well over a week.

Lake levels have been falling slowly all week and are now resting at 355.1 at Kentucky Dam. Upstream at New Johnsonville readings were expected to be 355 as the weekend approaches.

While the low lake levels are normal for this time of year, boaters should be cautious and pay close attention to channel markers while resisting the temptation to take shortcuts over open water where shallow sandbars silently sleep.

Both bass and crappie anglers were enjoying nice fishing until last weekend's cold front delivered a devastating blow for two or three days but action has steadily rebounded throughout the week. The front brought a temporary hiatus to the fall bite at a time usually known for stable fishing conditions.

Bass bounced back earlier this week and returned to feeding frenzies in the early morning and late afternoon periods as they busted the surface in hot pursuit of an abundant shad population that is present throughout the lake this fall.

Gravel banks and roadbeds are attracting a lot of bass as are some shallow flats where the fish are pushing schools of shad into shallow water for a topwater ambush. Various shad colored crankbaits are working good such as Bandit's Root Beer and Tennessee Shad colors and some other gray or silver shades from Bill Norman, Strike King, and Normark.

A few fish are taking jigs tipped with split-tail craws fished in a slow, swimming motion too. While some other suspending jerk baits and occasional worms are working, the fish are clearly chasing threadfin and gizzard shad in assorted sizes.

It appears the forage base is in good shape on Kentucky Lake as the various sizes of the baitfish indicate both early and late spawns were successful, a scenario that offers ample food to a variety of year classes of gamefish.

Crappie were improving daily after taking on a very finicky mood late last week. The high skies teamed with stagnant winds and influenced the fish into one of those "I-don't- care-if-I-bite-it-or-not" moods that has slowly released its grip.

The strikes are light but action was improving around stakebeds and brushpiles in the 10 to 14 foot zones. Baits of choice have been 1/16 to 1/32-ounce jigs tipped with Berkley Power Bait and fished in a vertical presentation. Seems the fish want it right on their nose at times with perhaps a slight swimming motion to enhance strikes.

Popular color combinations have been red/white, black/chartreuse, gold skirts with glitter and some green/white at times. A few fish have taken minnows but most were reluctant bites.

Deeper ledges in the main lake have not given up many fish lately as the bulk of crappie appear to favor the midrange depth zones. Watch for some shallow areas to improve once cloud cover or rainy days enter the picture. A few foggy mornings have helped filter the bright light for a few hours each day.

There are still some good numbers of fish showing up and culling a few short ones is part of it. However, there are enough keeper size ones hitting to keep it interesting.

Bass, crappie, and catfish anglers have some great weeks ahead as the October and early November time frame traditionally delivers excellent fishing conditions that help anglers establish patterns that hold up from week to week.

Colors across the hillsides and shorelines are already starting to fade into the early phases of a fall parade. Don't let this beautiful time of the year on the lake pass you by.


Also check out our past:
Kentucky Lake Fishing Reports

Steve McCadams is one of the nation's best known Crappie Fishermen and a full time resident of Paris, Tennessee. Steve is also a professional hunting and fishing guide here in the Paris Landing area.