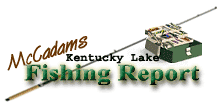 Brought to you by: Fishtale Lodge
Steve McCadams'
Kentucky Lake Fishing Report for:
October 6th, 2006
INDIAN SUMMER LINGERS…ANGLERS SEE TWO SEASONS IN SAME WEEK
Hot one day and cool the next. For Kentucky Lake anglers it has been one week with two seasons in it.
Fall fishing patterns have been holding up well for crappie anglers this week but the return of hot weather seemed to stall the bass bite. In fact, earlier this week felt more like late summer fishing as hot, sunny days with very light winds had anglers trading in the long sleeve shirts and jackets for sunscreen and ice water.
Cooler weather is already here and it should feel more like fall going into the weekend.
Surface temperatures this week climbed back into the 73 to 76 degree range after falling into the 69 to 71 degree arena last week. Watch for a cooling off this weekend as the water should fall back a few degrees each night.
Lake levels have been falling slowly the last few days. TVA predicts the continuation of falling lake levels going into the weekend with projections of 355.5 at Kentucky Dam. Upstream the elevation is expected to be 355.4 at New Johnsonville Steam Plant.
Water color has cleared since last week in most shallow bays and pockets as falling water has pulled any dingy color out of shallow zones. The main lake areas are also clear.
Crappie action improved at midweek with increased numbers of fish entering the 8 to 12 foot depths where structure is present. Good numbers of fish were coming from stakebeds and brush piles as anglers vertical fished chartreuse and white leadhead jigs with a variety of skirt colors.
I've had several days where over 100 fish were caught on jigs and jigs tipped with minnows. Several small fish are showing up and culling several is part of the trip but some larger fish entered the picture at midweek.
It's not unusual to toss back one or two fish for every one you keep but managing 45 to 50 keeping fish a day means you've had a lot of fish-catching fun this time of year.
The crappie are fat and sassy, showing bulging bellies full of shad as they put on the fall feed bag. Even the smaller fish are bulging, which indicates a healthy forage base right now on Kentucky Lake.
Watch for the coming weeks to hold up well for crappie anglers as cooler weather enters the picture and the fish find a comfort zone in the shallow to midrange depths. And, some fish continue to linger on the deep ledges where those bottom bumping minnow rigs and jigs tightlined around deep stumps are producing fish from the 18 to 20 foot zone.
Bass appeared to back off earlier this week as the high skies, hot temperatures, and slow falling lake levels teamed up to challenge tournament anglers. The days of high pressure seemed to turn off the bigger fish, especially in shallow grass, stumps, and visible crappie beds.
A lot of anglers were beating the gravel banks with shad colored crankbaits and finding a few small fish. Others were working the visible grass beds that are abundant on main lake flats and around the rim of islands but strikes have been stubborn from finicky fish.
Some scattered fish were taken on ledges and long points by anglers working Carolina rigged worms and deep diving crankbaits.
To show just how tough the bass fishing has been earlier this week consider the 517 anglers who participated American Bass Anglers National Championship out of Paris Landing State Park that started Wednesday. There were only three anglers who managed to weigh in a five fish limit and the leading stringer on day one was just over 14-pounds.
The entire field had three days of practice before competition began at midweek but that shows just how slow the bass bite was on day one. With a cool front approaching on Thursday promising some rain and cloudy skies, bass busters were hoping the fish turned on. Those approaching low pressures can stimulate sluggish fish into biting so things could change quickly.
Not much coming in from catfishermen this week but the falling lake levels have increased current in the main river so that should improve things.
Anglers this week have encountered a little bit of summer and fall. Most are hoping this Indian summer will loosen its grip.
For The Lake Barkley Report
Click Here
Also check out our past:
Kentucky Lake Fishing Reports
Steve McCadams
Steve McCadams is one of the nation's best known Crappie Fishermen and a full time resident of Paris, Tennessee. Steve is also a professional hunting and fishing guide here in the Paris Landing area.