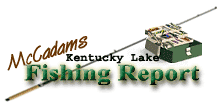 Brought to you by: Fishtale Lodge
Steve McCadams'
Kentucky Lake Fishing Report for:
October 31st, 2008
Kentucky Lakeís fall fishing scene had a brief hiatus earlier this week when a cold front descended and made it feel like winter was here. Brisk northwest winds blew in the door on Monday and Tuesday, followed by high skies that curtailed the bite for both bass and crappie for a few days.
Yet conditions began to rebound on Wednesday and by Thursday southwest winds returned with a significant warm up and off went the overcoats. Temps were expected to remain in the mid 60ís going into the weekend and early next week.
Current lake levels in the New Johnsonville area show the reservoir resting at 355. Downstream at Kentucky Dam lake levels are in the 355.2 range. Those readings are similar to last week at this time so stable lake stages continue which is a fall tradition.
Surface temperatures really fell early this week as those cold nights where the mercury dipped near the freezing mark had an influence. On Tuesday my temp gauge read 56 degrees at the marina and rebounded up to 60 at midday.
Since then temps have remained in the mid to upper 50ís, which is down considerably from last week.
Crappie seemed to back off on their bite early this week as the cold front approached and high winds added insult to injury. Although the yellow bass and bluegill maintained an appetite around the 9 to 13 foot stakebeds and annoyed jigs, minnows, or any other presentation dunked in their locale the crappie were quite finicky.
Fish backed off and bites were light and reluctant. Itís not unusual to see cold fronts and high skies have and adverse effect and that seemed to be the case. The fish seemed to be lethargic as even larger fish were barely taking the bait with a ho-hum attitude at best.
Gale winds made it even tougher as the trolling motor and batteries really got a workout for a few days.
Look for action to resume quickly as warmer temps and light southwest winds are already here and continue in the forecast for both the weekend and into next week. That should work in favor of anglers as crappie will likely improve and resume their good fall bite.
Bass had been running shad on open flats and also up in some shallow bays where gravel and grass were present. Earlier in the week that activity slowed too as the bass responded like the crappie and had a mood swing for a few days.
Several fish were lingering on ledges last week as water temps were still warm but watch for an improvement in the shallow areas this week since surface temps have dropped.
Shallow running crankbaits have paid off as have chrome and blue rattle traps, gold willow leaf spinnerbaits, and some suspending jerk baits fished around grassbed fragments and gravel banks.
Topwater action should bounce back as well in the aftermath of the cold front. Working chugger style baits have produced as have some floating fluke worms.
Water color remains clear in most of the area and that has worked in favor of surface action.
A few schools of white bass are showing up in shallow flats and the surface activity can easily be detected by the presence of gulls who will lead you to the shad and feeding frenzies.
Toss some white rooster tails and youíll encounter fast action from these aggressive feeders.
Cold fronts in fall are unusual and it appears warmer days are ahead with stable conditions overall that should favor fishermen in both the bass and crappie departments.
For The Lake Barkley Report
Click Here
Also check out our past:
Kentucky Lake Fishing Reports
Steve McCadams
Steve McCadams is one of the nation's best known Crappie Fishermen and a full time resident of Paris, Tennessee. Steve is also a professional hunting and fishing guide here in the Paris Landing area.