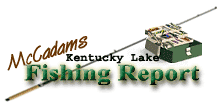 Brought to you by: Fishtale Lodge
Steve McCadams'
Kentucky Lake Fishing Report for:
October 31st, 2003
Nice weather continues to dominate the fall fishing scene. Trouble is, most anglers overlook this season but Kentucky Lake offers some good bass and crappie action during the late October and early November phase.
There are still some nice colors left on the hillsides too so the scenery alone is worth a trip to the lake.
Meanwhile, light winds and temperatures that have been somewhat above normal this week have offered anglers good fishing conditions.
Surface temperatures recently have lingered around the 64 to 68 degree range. Watercolor is relatively clear throughout most of the Big Sandy River basin with a little stain remaining on the Tennessee River.
Observed lake elevation in the Paris Landing area this week was 354.6. That's down a few inches from last week at this time. The reservoir continues to fall toward its winter pool resting place.
Crappie continue to provide ample action with the bulk of fish coming from depths of 7 to 12 feet. A lot of fish are relating to structure such as stumps, manmade brushpiles and stakebeds.
Most of the structure producing keeper-sized crappie has been on the main lake flats and secondary channels. A lot of smaller fish are hitting from shallow structure found in the bays and while a lot of small fish are being caught in the open water too, a few more large fish are holding there.
Successful anglers this week have been working jigs tipped with minnows around submerged structure. Popular colors have been chartreuse with red metal flake and chartreuse or fluorescent red lead heads sporting white-skirted tubes.
While a few fish are taking just jigs, strikes have increased when the jigs are tipped with minnows.
A few anglers are still stalking the deep ledges on the main lake and finding sufficient numbers but no concentration. Most anglers are making several stops and checking out multiple areas in order to finder a limit of 10-inch fish.
Still, overall action has been good this fall and there's a multitude of fish right on that threshold of 10-inches so keep the ruler handy and release those short fish to one day bite again.
Bass anglers continue to find fish on rock banks and bluffs. And, several fish have been taken by anglers flipping jigs and various worms or lizard style baits around boat docks and bridge piers.
Several main lake points have produced strikes lately as anglers work crankbaits and jerk-baits where shad are present. Some surface action has still been on the menu too as the gulls will take you to good fishing.
The shallow sandbars back in the bays and even on the main lake are holding a lot of white bass too. Toss a Rooster Tail and you'll pick up some quick action as the feisty fish are in hot pursuit.
Some smallmouth and spotted bass have been taken this week around rip-rap banks, especially when a little current was present.
As always, boaters need to be careful out there right now as low lake levels can do a number on your outboard's lower unit. Pay attention to the channel markers and resist the temptation to take those shortcuts over shallow sandbars.
Fall fishing is still alive and well so better make the best of it while nice weather is on the radar screen.
For The Lake Barkley Report
Click Here
Also check out our past:
Kentucky Lake Fishing Reports
Steve McCadams
Steve McCadams is one of the nation's best known Crappie fishermen and a full time resident of Paris Tennessee. Steve is also a professional hunting and fishing guide here in the Paris Landing area.