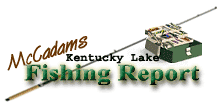 Brought to you by: Fishtale Lodge
Steve McCadams'
Kentucky Lake Fishing Report for:
October 29th, 2004
Fall fishing continues to hold up this week for Kentucky Lake anglers, despite some heavy rains.
Warm weather has lingered, offering some nice days for anglers where light winds have been the norm.
Surface temperatures have climbed to the 66 to 68 degree range this week, which is a degree or two warmer than last week at this time.
Lake levels have been falling this week, despite some thunderstorms and torrential rains that delivered a lot of runoff. TVA indicated lake stages would rise slightly going into the weekend with predictions in the 355.1 range at Kentucky Dam and New Johnsonville.
The lake was down to 354.8 for a day or so at midweek, exposing several sandbars and flats in the back of creeks.
Several back-to-back days with rain and cloud cover seemed to stimulate the bite for crappie as action has held up pretty good. The fish seemed to back out of shallow areas earlier this week when lake levels began falling but midrange depths are holding a lot of fish.
Brushpiles, stumps, and stakebeds in the 8 to 12 foot range have given up some good fish. And, there are still some deeper ledges out on the main lake holding fish too. Productive depths there have been in the 17 to 19 foot range.
Both live minnows and jigs have worked well in the deep water where anglers have been using bottom-bumping rigs. Other techniques of slow trolling jigs and minnows or vertical presentations of 1/8 to ¼-ounce leadheads have worked well.
Popular colors have been white and chartreuse, black and chartreuse, and white with clear sparkle.
The fish are in good shape, sporting some bulging stomachs indicating a good shad forage base is present.
Watercolor remains clear at the mouth of Big Sandy while the upper Big Sandy basin and West Sandy have some dingy water in the aftermath of recent rains. The main Tennessee River is dingy but has a good color for fishing.
Bass continue to run shad along gravel banks and rock points. Shad colored crankbaits are producing as are spinnerbaits worked slowly over grass and stumps or logs. Some topwater action has been underway too, courtesy of the cloud cover each morning and afternoon.
Some anglers are working Carolina rigs around sandbars and points near deep water. And, Rattle Traps and shallow running crankbaits have produced along the pea-gravel banks.
The lower lake levels have exposed some visible structure in the form of crappie beds and various stickups in the backs of bays and large creeks. Some decent bass have been taken there as well.
A few smallmouth were hitting finesse baits this week as anglers worked rip-rap and sloping points off the main river channel.
Some white bass were busing shad in the shallow flats this week too. Tossing a white Rooster Tail or various inline spinners has produced some action.
Catfish have been taken this week by anglers fishing the main river channel with tightline rigs but some fish were caught by jugging techniques as well.
Fall fishing continues to hold up to its reputation of being an overlooked and underrated fishing season here.
For The Lake Barkley Report
Click Here
Also check out our past:
Kentucky Lake Fishing Reports
Steve McCadams
Steve McCadams is one of the nation's best known Crappie Fishermen and a full time resident of Paris, Tennessee. Steve is also a professional hunting and fishing guide here in the Paris Landing area.