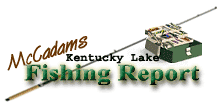 Brought to you by:




October 28, 2010

Kentucky Lake anglers had another unusual week of weather at a time when conditions are usually stable and predictable. Late last week it was nice and warm but earlier this week gale force winds and thunderstorms pushed through, dampening the spirits of anglers for a short time.

After much needed rain passed through, a cool front entered the picture and commanded overcoats for anglers as there is indeed a chill in the air. Highs struggled to reach the mid 60's while nighttime temps fell into the mid 30's.

Despite the roller coaster weather patterns this week some pretty nice stringers of bass and crappie have been taken at times.

Surface temperatures have been in the 64 to 66 degree range the last few days but will no doubt cool some by the weekend.

Although overdue rain finally fell across the region not much fluctuation has taken place for lake levels. Elevation at Kentucky Dam is in the 354.9 range while upstream at New Johnsonville readings were in the 355 range.

Water color remains clear across most of the reservoir with some stain in isolated areas where high winds kicked up sediments.

Crappie fishing has held up pretty good but anglers had to battle some wind and falling temps at times. Those midrange stakebeds and brushpiles in depths of 8 to 13 feet have produced fish this week.

Some nice size crappie have been hitting too but overall the fish are somewhat scattered and requiring anglers to make several stops during the day.

Jigs tipped with minnows or Berkley Power Bait have worked well. Popular color combinations have been red/white, blue/chartreuse, smoke with glitter, and some black/chartreuse.

On deeper main lake ledges some fish were lingering around the 14 to 16 foot depth range and taking jigs and minnows on double hook rigs.

Look for the fall crappie fishing to hold up for several more weeks but the bite this weekend may slow down some as the high skies and cold temps in the aftermath of the cold front will likely curtail activity.

It's not unusual for fishing to fall off when high barometric pressure enters the picture teamed with northeast winds once a front passes through. Watch for action to bounce back quickly, however.

Bass action was good earlier in the week as the cloudy, rainy conditions arrived but has slowed considerably in the aftermath of the cool snap. Fish were taking shallow running crankbaits in the Tennessee shad color and chrome/blue.

Working gravel points and roadbeds has been pretty good while some fishermen were tossing spinnerbaits around shallow wood structure and open flats. Rattle trap style lures were working well as some bass were schooling in open water flats and busting shad schools.

Main lake ledges and sloping points continue to attract a few fishermen looking for larger fish. Tossing jig and pig combos, suspending jerk baits, and big deep diving crankbaits were accounting for a few fish as were Carolina and Texas rigged worms.

A few catfish were showing up in the creel of crappie fishermen as several fish have entered that midrange depth zone of 8 to 12 feet. Still, a few anglers are working the bridge piers at Paris Landing and finding fish at times in deeper depths.

Bluegill continue to bite well around bridge piers and boat docks. They have also found refuge in the crappie beds and declared war on small jigs and minnows at times. Also feeding with an attitude are the endless schools of yellow bass that are masters at stealing your bait or tearing up jig skirts with their "machine gun" style strikes.

Watch for fall fishing action to resume once this cool snap loses its grip and stable weather returns.


Also check out our past:
Kentucky Lake Fishing Reports

Steve McCadams is one of the nation's best known Crappie Fishermen and a full time resident of Paris, Tennessee. Steve is also a professional hunting and fishing guide here in the Paris Landing area.