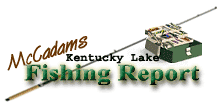 Brought to you by: Fishtale Lodge
Steve McCadams'
Kentucky Lake Fishing Report for:
October 28th, 2005
Crappie fishing on Kentucky Lake continues to hold well, despite the visit of a cold front earlier this week, escorted by strong northwest winds.
Warmer conditions chased away the cool spell by midweek and conditions look good going into the weekend. It appears November will kick off with normal temperatures that should keep fall fishing going strong.
Lake levels continue to stay near winter pool as the lack of rain hasnít sent much rain through the TVA valley lately. Kentucky Lake was resting around the 354.4 mark at both Kentucky Dam and upstream at New Johnsonville.
Surface temperatures took a plunge earlier this week when the bone chilling winds delivered the cold front. Presently, surface temperatures are in the 59 to 63 degree range.
Water color remains clear throughout most of the Big Sandy area with minor stain in the main Tennessee River sector.
Crappie continue to hold on structure in the 7 to 13 foot zone. Fish have been relating to brush, stumps, and manmade fish attractors in that depth range.
There was some improvement in the 16 to 20 foot zone this week as anglers there were scoring a few pretty good fish while using bottom bumping rigs armed with jigs and minnows,
Meanwhile, chartreuse, white, red and hot pink leadheads have worked well on skirts such as blue and white, chartreuse with red metal flake, and various shades of green.
Tipping jigs with minnows is still producing well.
Some good numbers of crappie have been taken on a consistent basis for several weeks now here in the Paris Landing area.
Bass continue to chase shad on shallow gravel banks where several anglers have scored using topowater. Stormsís Chug-Bug, Rebelís Pop-R, and Heddonís Zara Spook in the chrome, pearl, or silver and black have worked well.
A few fish were in shallow grass in the upper ends of bays where spinnerbaits and some floating flukes were fool some fish into striking.
Shad and pearl colored crankbaits are also working well on gravel and rock points. The low lake levels expose a lot of cover for bass anglers to fish and those stickups are holding fish.
Look for moderate temperatures to enter the picture this weekend and into next week with fishing improving now that cold fronts have come and gone. Most anglers are hoping for some cloud cover and a light rain wouldnít be all bad either.
For The Lake Barkley Report
Click Here
Also check out our past:
Kentucky Lake Fishing Reports
Steve McCadams
Steve McCadams is one of the nation's best known Crappie Fishermen and a full time resident of Paris, Tennessee. Steve is also a professional hunting and fishing guide here in the Paris Landing area.