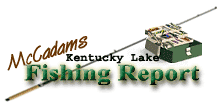 Brought to you by: Fishtale Lodge
Steve McCadams'
Kentucky Lake Fishing Report for:
October 27th, 2006
Kentucky Lakeís fall fishing has held up well this week, despite some weather changes in the form of cold fronts and high winds. Added to the challenges have been rain too but it hasnít dampened the spirits of fall fishermen who continue to find bass and crappie biting.
Lake levels are up slightly from last week. TVA projections going into the weekend will be 355 at Kentucky Dam. Upstream at New Johnsonville lake levels are slightly lower with projections falling into the 354.8 range.
Surface temperatures cooled this week and are presently in the 58 to 61 degree range. This was the first time surface temperatures fell back into the 50ís since late March. Those cool, frosty mornings last week really put the lingering summer days on the run.
Colors along the shoreline and hillsides continue to paint a beautiful picture for anglers and boaters visiting Kentucky Lake. The parade of colors is a nice backdrop to whatever you whatever you want it to be so get out there an partake of the scenery while it lasts.
Crappie action continues to hold up to its good reputation as a sleeper fall fishery. Good numbers of fish have been taken now for several weeks throughout the Paris Landing sector as anglers work those midrange depths where stakedbeds and brushpiles are located.
Popular depths continue to be that 8 to 13 foot zone. Seems the crappie have found a comfort zone in that depth range where a lot of baitfish are present. Mix structure and baitfish together and itís a recipe for success.
Popular bait choices have been 1/16-ounce jigs and jigs tipped with minnows. Colors choices have been chartreuse, red, and blue leadheads with a variety of skirt colors ranging from blue and pearl to motor oil with metal flake. Some chartreuse and variations of green with metal flake have also produced.
Water color remains quite clear and the fish have been finicky some days as to their choice of both colors and size of leadheads.
Action has been best with light winds had a little chop on the surface whereas some dead calm days saw fish reluctant to bite. Crappie seemed to respond well on cloudy days too with some aggressive activity on those early mornings and late afternoons lately when the bright sun was a factor.
Overall, the fall crappie bite has been good here. Several year classes of fish are showing up, which is a good sign for present and future anglers. Expect to measure several fish which are right on the 10-inch minimum length limit.
Tossing a few back means a good spring is ahead and there are plenty exceeding the minimum length limit to fill the cooler. There are a lot of black crappie showing up out there too as that population continues to increase.
Bass action had a jolt last weekend for a few anglers while the overall field in the recent Froggy Buddy Bass Tournament found the bit challenging. It took a five-fish limit weighing 24 pounds to win the top spot while a 21-pound stringer came in second. Thatís some hefty weights for fall bass here.
Although some heavy stringers took top spots with a lunker over 8 pounds winning big fish, most of the field found the bass bit tough with several teams in the top twenty weighing in less than a limit and single digit weights.
Crankbaits on rock and gravel banks have been paying off. Tennessee Shad, bone, and root beer colors have worked well for deep running cankbaits. Some slow rolling spinnerbaits around shallow stumps, exposed crappie beds, and grassbeds have produced strikes as have some topwater lures over shallow grass.
Jigs and pork combos continue to produce some of the larger stringers as have Carolina rigged lizards. Some of the larger fish are just off the shoreline, especially smallmouth which are using those secondary ledges where two depth extremes are closely located.
Better fall fishing is ahead for both bass and crappie anglers, especially after cool fronts pass and winds settle back down to that jacket morning and shirt sleeve afternoon style weather.
For The Lake Barkley Report
Click Here
Also check out our past:
Kentucky Lake Fishing Reports
Steve McCadams
Steve McCadams is one of the nation's best known Crappie Fishermen and a full time resident of Paris, Tennessee. Steve is also a professional hunting and fishing guide here in the Paris Landing area.