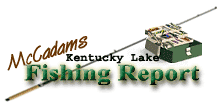 Brought to you by: Fishtale Lodge
Steve McCadams'
Kentucky Lake Fishing Report for:
October 26th, 2007
COOL CONDITIONS ENTER FISHING SCENE…ANGLERS ENDURE TOUGH WEEK
This week's fall fishing scene has seen some drastic changes in weather patterns as anglers battled heavy rains and some high winds that escorted cooler temperatures to the Kentucky Lake area.
I had to dig deep in the closet at midweek to come up with heavy coats and raingear to endure inclimate weather that had not threatened since early April. This week has not been kind to fishermen, although the bass and crappie were biting pretty good during the cloudy, cold, and miserable mornings if you could stay out there and brave the elements.
It appears good fall weather is on the way, however, as cool crisp mornings will linger in the days ahead. Temperatures are forecasted to be in a more fall-like range going into the weekend as highs are expected to be in the upper 60's to low 70's with cool nights dropping down into the upper 40's.
After several days of back to back rains partly cloudy skies swapped spots, giving anglers good reasons to head back out on the water.
The last few days saw crappie action improve to some degree. Fish took on a more finicky mood late last week when high skies hung around due to a high pressure that saw unusual windy days enter the picture. Then, showers began Monday morning and hung around all week with some pesky northwest winds that shifted to the northeast later in the week, bringing insult to injury.
Crappie had been hitting good in the 9 to 13 foot zones with a few scattered fish entering the 7 to 9 foot areas. However, some days fish have been sluggish and reluctant to take a jig or minnow the last as bites have been extremely light.
Fish have been holding tight to structure and you've had to get the bait right in front of them before they made any effort to bite. Often times strikes are detectable only by seeing the line move as the crappie haven't been too aggressive.
With cooler weather now entering the picture watch for more fish to move up toward shallow areas this weekend and into next week. Crappie action should bounce back quickly if winds calm so anglers can maneuver around the open water flats as choices have been restricted the last few days.
Tipping jigs with minnows continues to entice some bites from stubborn fish as have tipping jigs with a variety of scent attractants.
Popular colors have been black and chartreuse, blue and white, and some yellow tinted leads with dull brown skirts, not to mention just plain unpainted leadheads tipped with live shiner minnows.
Bass action has perked up this week with some good stringers reported. Anglers have found some improvement in the topwater bite around outside grassbeds where buzzbaits, and various jerk baits such as Pop-Rs and floating fluke style baits have produced.
Spinnerbaits around grass have worked too as have some Texas rigged worms in the green pumpkin-pepper colors.
Crankbaits in the chartreuse and sliver or shad variations continue to be productive when worked around gravel banks and roadbeds. Some dingy water is present in areas after the rains and high winds and the windy side of gravel points and banks has been worthy of pursuit.
Earlier this week I found bass chasing shad around rock points and shallow flats with some fish hitting the surface. Tossing a root beer colored Bandit crankbait, along with Tennessee shad coloreds worked well as did some chrome and blue colored Rattle Traps.
The fall bass patterns come in a variety of choices, ranging from grassbeds to gravel banks and visible crappie beds in the backs of bays.
Presently, surface temperatures are falling due to the approaching cool spell. Readings earlier in the week were in the 72 to 74 degree range but were down in the upper 60's by Wednesday and will continue to fall going into the weekend.
Lake levels are up a few inches from last week at this time. Observed elevation at Kentucky Dam is 356.3. Upstream at New Johnsonville readings are in the 356.1 range. Lake levels have been on the rise the last few days due to recent runoff from overdue rains.
Some areas such as Stewart County reported as much as 6-inches of rain at midweek. Most feeder creeks were bringing in stained water to the reservoir.
Some dingy water is now present in most feeder creeks on the west side of the reservoir and up Big Sandy.
Fall weather is usually stable and predictable with light winds but this week has been borderline brutal as old man weather has tried to make up for the drought courtesy of a cold front and gale winds that made it feel like winter was knocking on the door.
For The Lake Barkley Report
Click Here
Also check out our past:
Kentucky Lake Fishing Reports
Steve McCadams
Steve McCadams is one of the nation's best known Crappie Fishermen and a full time resident of Paris, Tennessee. Steve is also a professional hunting and fishing guide here in the Paris Landing area.