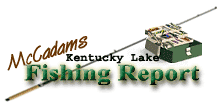 Brought to you by: Fishtale Lodge
Steve McCadams'
Kentucky Lake Fishing Report for:
October 24th, 2008
Kentucky Lakeís fall fishing has held up well this week for crappie anglers who continue to benefit from nice weather and stable lake levels. Bass action has been fair and shallow water patterns are producing.
Lake levels have been stable this week. Presently, lake stages in the New Johnsonville area are resting at 354.9. Downstream at Kentucky Dam lake levels were slightly higher with readings in the 355.2 range.
Surface temperatures have cooled since last week at this time. The last few mornings surface temperatures have started out in the 65 degree range and warmed during the day to 69 around the Paris Landing sector.
Water color has a slight stain in some areas where wind has whipped up shallow bays and shorelines but the main lake remains clear.
Crappie continue to occupy midrange depths of 7 to 13 feet. Some cloudy days where fog faded to overcast conditions saw increased activity as the fish took on a more aggressive mood.
A light wind and some cloud cover have definitely worked in favor of shallow areas where some decent size crappie were taking 1/32 to 1/16-ounce jigs in chartreuse/white, red/brown, white/ lime color combinations just to name a few.
Tipping jigs with minnows continues to produce well. Added Berkley power bait has also stimulated bites as some days even the larger crappie are exhibiting a timid strike.
Overall the grade of crappie has been pretty good with a lot of fish falling in the ĺ to one pound range. And, a few fish eclipsing the 1 Ĺ pound range are testing the tackle too.
Iím seeing more black crappie showing up this fall too and this week I caught six or seven black-nose crappie, which is a black crappie with a genetic marking that has a dark line from his dorsal fin all the way to his nose.
Watch for more good fall crappie fishing next week as itís likely weather conditions and lake stages will remain stable for a few more weeks.
Expect to encounter a multitude of yellow bass out there right now as these aggressive little rascals are sporting a real appetite as they travel in schools and annoy crappie fishermen. A few white bass and stripers are showing up in schools and busting the surface too.
When tipping jigs with crappie nibbles youíll also link up with some feisty bluegill who just love the taste of that Berkley power bait. There are some dandies biting too but often times they steal your bait at the blink of an eye.
Some catfish are also hanging around those stakebeds and brushpiles so itís not unusual to tangle with a hefty one now and then that really puts a bend in your pole.
Bass continue to come from a variety of patterns ranging from spinnerbaits around grassbeds to shallow running crankbaits around gravel banks and roadbeds. A few anglers continue to work boat docks, piers and other shallow structure while pitching crawfish and worms or jig and pig combos.
Some surface actions was underway this week as bass chased schools of shad over main lake flats while competing with some yellow and white bass who were also in hot pursuit. Even a few larger stripers were seen at times.
Meanwhile, tossing a rattle trap and floating worm around grass is still worthy of respect as are some topwater jerk baits such as Rebelís Pop-R, Heddonís Zara Spook, and Stormís Chugg-Bugg and Thunderstick.
Fall weather continues to work in favor of fishermen as it has been quite nice on the lake lately. Trees are beginning to turn colors so you better get out there and enjoy the autumn angling before old man winter slips in the door.
For The Lake Barkley Report
Click Here
Also check out our past:
Kentucky Lake Fishing Reports
Steve McCadams
Steve McCadams is one of the nation's best known Crappie Fishermen and a full time resident of Paris, Tennessee. Steve is also a professional hunting and fishing guide here in the Paris Landing area.