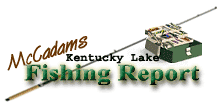 Brought to you by: Fishtale Lodge
Steve McCadams'
Kentucky Lake Fishing Report for:
October 22nd, 2004
Kentucky Lake's fall fishing is still alive and well, despite some storms, high winds, and heavy rains earlier this week. Crappie and bass action is holding up well and some nice stringers have been taken in the aftermath of this week's stormy start.
Water levels were rising at midweek after some heavy rains and runoff. However, TVA predicts the reservoir will begin falling slowly this weekend.
TVA indicates the elevation will fall for the next several days with levels expected to be in the 356.3 range this weekend at Kentucky Dam. Upstream at New Johnsonville levels were slightly higher. That will likely change a few inches each day.
Watercolor has changed dramatically in the upper Big Sandy and West Sandy sectors since all the thunderstorms. Dingy to muddy water has entered the picture there due to a lot of runoff.
It's still relatively clear down around the mouth of Big Sandy and throughout most of the Paris Landing area, however. And, the main Tennessee River was some clear this week too due to rising lake levels. At midweek, there was a lot of debris floating from all the wind and rising waters.
It appears things will settle down going into the weekend in terms of lake levels and weather.
Crappie continue to hit good as fall patterns hold up. However, fish were concentrated late last week only to scatter somewhat after the storms and heavy rains early this week that caused quick changes in lake levels.
Several fish were still relating to deeper stake beds and brush piles in depths of 9 to 12 feet. As lake levels fall crappie will likely improve for anglers working structure in the midrange depths.
Several colors of jigs have worked this week ranging from black and chartreuse to white and blue. Some chartreuse variations have worked too but all seem to produce better when tipped with minnows or various scent attractants.
Also producing fish have been the main lake ledges where some anglers continue to work live minnows and jigs. Bumping bottom with the tightline rigs has worked well in depths of 15 to 18 feet where brush and stumps can be found.
Bass fishing has been good this week as the cloudy days have been in favor of anglers working shallow gravel banks and rock points. Some feeder ditches and creeks were producing bass after the heavy rains too as the influx of fresh water washed food to some hungry bass.
Shad colored crankbaits are still producing along rocky banks. Rapala's Shad Rap and Rattle Traps have worked well.
For The Lake Barkley Report
Click Here
Also check out our past:
Kentucky Lake Fishing Reports
Steve McCadams
Steve McCadams is one of the nation's best known Crappie Fishermen and a full time resident of Paris, Tennessee. Steve is also a professional hunting and fishing guide here in the Paris Landing area.