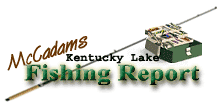 Brought to you by:




October 21, 2010

AUTUMN HOLDING UP TO ITS REPUTATION


Autumn anglers at Kentucky Lake have been the beneficiary of stable weather this week with light winds and average temperatures teaming up to provide nice fishing conditions.
Although the fall colors are somewhat subdued due to the extended drought, itís still a great time of the year to be out and about on the lake.
Lake levels have been holding steady this week as very little rain has fallen across the TVA valley so not much runoff has entered the river system. Elevation at Kentucky Dam is resting in the 355 range while upstream at New Johnsonville readings are staying around the 354.7 range.
Water color remains quite clear. Surface temps have cooled some since last week and are starting out each morning around 66 degrees and warming into the 68 degree range at midday.
Crappie showed improvement this week with nice size fish coming from stakebeds and brushpiles located in the 7 to 9 foot depth range. A few fish have been taken in structure only 6 feet deep on days when cloud cover and a light chop on the surface was present.
A lot of shad are schooling in the shallow areas and roaming the flats. This has no doubt lured some crappie and bass to move up in pursuit of their forage.
Iíve found some hefty crappie the last few days in shallow beds that were not producing last week at this time. Although fish are somewhat scattered, making a lot of stops is paying dividends by the end of the day.
Not all fish are shallow as a few boats have been combing main lake ledges and finding a one-here, one-there pattern in depths of 14 to 17 feet. Yet it appears more crappie have moved up toward midrange depths this week.
Clear water conditions have made it tough at times around midday when high skies and stagnant winds were present. When cloudy days and wind enter the picture fishing has improved as the shallow crappie are no doubt sensitive to bright sun.
Some nice catches have been taken by anglers in the early morning and late afternoon hours, a likely result of lowlight conditions stimulating activity. The crappie have been finicky biters and even some of the larger fish have displayed timid strikes.
Tipping jigs with minnows has been productive. A few fish are taking just jigs but adding the minnow has been enticing to stubborn fish.
Popular color choices have ranged from white/red to black/chartreuse with some unpainted leadheads working well. Smaller jig heads in the 1/16 and 1/32-ounce range have appealed over big, bulky, loud colored skirts and heavier leadheads.
Just tipping the naked leadhead with a minnow has been quite effective at times but expect to battle hungry yellow bass and curious bluegill as these little rascals are out in force.
Bass action has been fair with several smaller fish being caught by anglers banging the banks and shallow boat docks. White and chartreuse spinnerbaits with gold willow leaf blades have been effective as have some shallow running shad colored crankbaits.
A few anglers have been pitching jigs and worms around piers and boat docks where shady areas are holding a few fish. Gravel points and rip-rap levees and roadbeds are also holding some fish.
Some schooling activity has been showing up on shallow flats along the main river and also at mouth of big bays. Shad have been abundant in some spots and the bass are busting them. Casting Rattle Traps and various swim baits has worked well.
Some of the winning tournament strings are still coming from ledges and humps near the main river. Tossing jig and pig combos, big crankbaits, and some suspending jerk baits has delivered some bigger bites at times but fish are not on every ledge. It has been a trial and error approach.
Some grass has shown up south of Paris Landing down around Harmonís Creek Islands and further south of New Johnsonville. Some shallow structure is visible now in the backs of bays as many crappie beds and stumps are exposed in the low water.
Catfish have been moving toward shallow areas as the cooler water and shad movement have attracted them.
Looks like decent weather will remain in the forecast and anglers can expect water levels to hold steady. Good fishing should hold up as long as Mother Nature cooperates.

Also check out our past:
Kentucky Lake Fishing Reports

Steve McCadams is one of the nation's best known Crappie Fishermen and a full time resident of Paris, Tennessee. Steve is also a professional hunting and fishing guide here in the Paris Landing area.