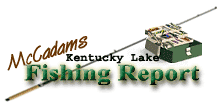 Brought to you by: Fishtale Lodge
Steve McCadams'
Kentucky Lake Fishing Report for:
October 20th, 2006
FALL CRAPPIE BITE GOOD…ANGLERS ENJOYING SUCCESSFUL SEASON
Fall fishing continues to hold up well for crappie anglers on Kentucky Lake while bass busters are finding things a big challenging.
Hardwoods are rapidly changing colors and it's a beautiful time to be on the water.
Anglers have had a variety of weather conditions this week with some beautiful days where foggy mornings faded into warm sunny days. There have also been a couple of days where nasty winds mixed with some light rain challenged even the die-hard anglers among us.
Lake levels were rising slightly earlier in the week but leveled off quickly and began falling slowly the last few days.
TVA projects elevation in the 354.9 range going into the weekend at Kentucky Dam. Upstream at New Johnsonville Steam Plant lake levels will be slightly lower with projections of 354.5.
Surface temperatures have rested in the 62 to 66 degree range this week. A cool front now underway could see a slight decrease this weekend.
Water color remains clear throughout most of the Big Sandy while a slight stain is visible in portions of the Tennessee River channel and main lake flats.
Crappie action remains good with a lot of fish residing in the 7 to 12 foot zone. Some windy days made it tough on anglers to maneuver around and negotiate open water areas but other days where light winds were the norm produced nice fishing conditions.
The fish are sporting a hefty appetite and taking jigs and live minnows dunked around submerged stakebeds and brushpiles. Some fish have been finicky at midday when a calm lake and bright sun slowed down the bite. However, cloudy days or lowlight hours of early morning and late afternoon have seen significant improvement in mood swings as the fish get more aggressive.
Some anglers are finding scattered fish still relating to deep structure on main lake ledges. Depths of 15 to 19 feet have given up a few as anglers work jigs and minnows there.
Popular jig colors have been florescent red, green, and orange leadheads with a variety of skirt colors ranging from light chartreuse to blue and pearl. And, unpainted leadheads with dull colored skirts or just tipped with a live minnow have produced.
Casting jigs and minnows under slip bobbers has work for some anglers as that slow retrieve can be deadly on calm days. Others are casting twister tail grubs on weedless heads with moderate results.
Some boats are slow trolling spider rigs and deep diving crankbaits and catching a few suspended crappie but the fish appear to be in a structure-oriented mood, which is normal for fall crappie patterns here on Kentucky Lake.
Bass anglers are working crankbaits on pea gravel banks and rocky points with some scattered strikes. Popular colors choices have been shad, chrome, and bone while a few fish have jumped on a black and chartreuse combo.
Jig and pork, Texas and Carolina rigged worms have worked on some sloping points. Slow rolling spinnerbaits around shallow wood and grass have also accounted for a fish or two.
Flipping slow sinking baits around boat docks and piers has worked too. Not much in the way of topwater action lately as the fish seem to be stubborn to bust buzzbaits and other jerk baits.
Some of the grass beds are decreasing in size as a lot of floating fragments of vegetation can be seen throughout the reservoir. Cooler surface temperatures, high winds, and lower lake levels can team up to dislodge some aquatic vegetation this time of year.
Some smallmouth were taken this week by anglers working sloping sandbars in bays on the east side of the Tennessee River. And, spotted bass and some largemouth were relating to main lake ledges on the down current sides of ledges.
Catfish action was fair on the main river bank this week as some current helped stimulate bites from sluggish fish in depths of 25 to 40 feet.
Some scattered schools of white bass were busting shad on shallow flats too. Tossing rooster tails and shallow running crankbaits were working well in those scenarios.
Low lake levels are the norm this time of year so pay attention to those channel markers as you navigate unfamiliar areas.
For The Lake Barkley Report
Click Here
Also check out our past:
Kentucky Lake Fishing Reports
Steve McCadams
Steve McCadams is one of the nation's best known Crappie Fishermen and a full time resident of Paris, Tennessee. Steve is also a professional hunting and fishing guide here in the Paris Landing area.