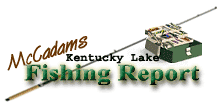 Brought to you by: Fishtale Lodge
Steve McCadams'
Kentucky Lake Fishing Report for:
October 19th, 2007
This week's Kentucky Lake fishing report for the Paris Landing sector indicates crappie are still hitting good and bass activity is holding its own.
Overall, weather conditions have been holding up well but the normal stability of fall took a left turn at midweek with high winds escorting thunderstorms and somewhat cooler conditions to the area.
For a few days March winds have slipped in the doors of October and anglers have been battling whitecaps in main lake areas, which restricted both bass and crappie anglers to backwater bays.
Good weather is in the forecast, however, with seasonable temperatures returning. By the weekend and early next week those jacket mornings and shirt sleeve afternoons should return.
Lake levels are up slightly from last week at this time. Observed elevation at Kentucky Dam at midweek was 355.5. Upstream at TVA's New Johnsonville Steam Plant the reservoir was resting at 355.4. TVA is predicting stable lake levels going into the weekend.
Surface temperatures have been holding in the 70 to 74 degree range. Moderate temperatures at night and somewhat above average temperatures during the day have not allowed much cooling this week.
Water color is slightly dingy on the main lake shorelines where high winds have whipped up some shoreline sediments. The rest of the reservoir remains clear.
Crappie were hitting good earlier in the week but seemed to have a mood swing late Tuesday and throughout the day on Wednesday as inclimate weather approached and high winds limited access to many open water venues.
Still, overall crappie action has held up well at a lot of fish continue to reside in that 8 to 13 foot zone. I found a few scattered fish in 6 to 8 foot stakebeds this week as well but the bulk of fish appeared to favor slightly deeper structure.
Last weekend's Crappie USA Classic saw the winning stringer from the two-day event come from relatively shallow water where two North Carolina anglers found fish around boat houses. They "shot the docks" with 1/32-ounce jigs and credited their catch to depths ranging from two to seventeen feet while fishing north in the Blood River and Jonathan Creek areas.
However, most of the crappie here in the Paris Landing area seem to be relating to both midrange structure such as brushpiles and stakebeds, and some main lake ledges in 12 to 15 feet.
There are also some scattered fish still hanging around the main lake drop-offs where stumps and brush are producing fish as anglers use double hook bottom bumping rigs and also tightline jigs and minnows.
Tipping a jig with minnows continues to produce bites from finicky crappie but some days the fish have taken jigs without the addition of minnows, especially during the early morning and late afternoon lowlight conditions.
Popular jig colors have been chartreuse skirts with black leadheads, some blue and white, along with pearl and blue sparkle. Also working have been chartreuse skirts with red metal flake fished on 1/32 and 1/16-ounce leadheads.
Bass action has been fair around gravel banks and rock points where tossing shad colored crankbaits has worked well. Some fish continue to relate to the grassbeds along the main lake and river islands where working spinnerbaits, worms, and some topwater has worked.
A few fish are relating to boat houses and docks where pitching a jig or working a Texas rigged worm or crawfish has produced some strikes. Working shallow running crankbaits around docks and piers has also produced fish.
A few jumps of white bass have been showing up on shallow flats as they chase shad and mixed in with the white bass have been a few largemouth and some stripers in the 3 to 4 pound class.
Watch for those gulls diving toward the surface and you'll find aggressive shad activity with some bass busting as well.
A few bass were coming from shallow crappie beds in the backwater bays up Big Sandy and into West Sandy. Working floating fluke worms and spinnerbaits around the wood cover has produced a few fish too as that fall bite can turn on quickly if cloud cover and cool conditions enter the picture.
For The Lake Barkley Report
Click Here
Also check out our past:
Kentucky Lake Fishing Reports
Steve McCadams
Steve McCadams is one of the nation's best known Crappie Fishermen and a full time resident of Paris, Tennessee. Steve is also a professional hunting and fishing guide here in the Paris Landing area.