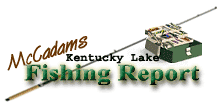 Brought to you by: Fishtale Lodge
Steve McCadams'
Kentucky Lake Fishing Report for:
October 19th, 2005
CRAPPIE ACTION GOOD...STABLE WEATHER AND LIGHT WINDS DELIVER EXCELLENT FISHING CONDITIONS...RESERVOIR RESTING AT WINTER POOL
Kentucky Lake has given up some good crappie fishing thus far this fall, especially here in the Paris Landing sector.
Fall fishing is often overlooked and underrated. Iíve been on the lake daily for about three weeks and not many boats are testing the water.
Great weather and light winds have teamed up to offer anglers almost perfect conditions the last week to ten days. And, thereís every indication good fishing conditions will hold up in the weeks ahead.
Lake levels are resting right at the winter pool mark of 354. The lake has fluctuated a few inches some days but generally speaking, low lake stages, which are normal this time of year, will greet you.
Surface temperatures warmed slightly at midweek due to a couple of warm days. Readings are in the 67 to 72 degree range.
Watercolor remains clear throughout Big Sandy and West Sandy. A slight stain is present in the Tennessee River but the lack of rain and wind hasnít stirred up the water much.
Crappie have been taken throughout the week in big numbers. Structure in the 6 to 13 foot zone is holding a lot of fish.
I've had several days back to back with catches of 100-plus fish and two days where we boated about 150! We've culled and kept 55 to 75 fish for several days now. Fishing is good!
The last two days has seen some larger fish move in to the stakebeds too as we boated a few fish in the 1 1/4 to 1 3/4 pound range mixed in with the smaller fish.
Working the submerged cover with jigs and jigs tipped with minnows has produced some hefty stringers. Several different jig colors are working with 1/32 to 1/16-ounce leadheads in the red, chartreuse, and black working well.
Some fish are showing a preference for small hair jigs with white, yellow, and chartreuse bodies while just the painted leadheads tipped with minnows are also producing
A few fish remain on main lake ledges where depths of 14 to 16 feet were giving up a few fish but the lionís share of crappie appear to be in those midrange depths of 6 to 13 feet.
Size appeared to improve this week with a few larger fish showing up in the creel. Thereís still a lot of fish that have to be measured as some are just shy of the 10-inch minimum length limit but thereís plenty of keeper-size fish to go around.
Overall, the crappie fishing is good and well worth the trip.
Bass anglers are finding fish in a variety of patterns this fall with some topwater action in the early morning and late afternoon hours. Thereís still some white bass busting the surface in places where a few largemouth and spotted bass are also there with them running shad.
Spinnerbaits are working well around shallow structure, as are shallow running crankbaits in the chrome, Tennessee Shad and chartreuse and black combo colors.
Jerk baits are attracting some fish too along the gravel banks and around exposed crappie beds along gravel banks and the backs of bays.
A few smallmouth are taking crankbaits and finesse baits tossed around main lake points and sloping banks, rip-rap, etcÖ
Some anglers are flipping boat docks with worms, jigs, and craws where bass are using the shaded areas for refuge.
Donít let this great fall weather and fishing pass you by!
For The Lake Barkley Report
Click Here
Also check out our past:
Kentucky Lake Fishing Reports
Steve McCadams
Steve McCadams is one of the nation's best known Crappie Fishermen and a full time resident of Paris, Tennessee. Steve is also a professional hunting and fishing guide here in the Paris Landing area.