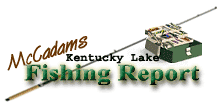 Brought to you by: Fishtale Lodge
Steve McCadams'
Kentucky Lake Fishing Report for:
October 17th, 2003
STABLE WEATHER AND LAKE LEVELS GREET ANGLERS
This week's fishing report continues to bring good news. Fall fishermen are having good luck in the crappie and bass department.
With the exception of last Tuesday's gale wind and thunderstorm, conditions have been stable with beautiful weather and light winds greeting anglers.
Surface temperatures this week were in the 64 to 68 degree range. That's slightly cooler than last week at this time.
Watercolor remains clear throughout the Big Sandy embayment but some stain is present in the main Tennessee River area.
Lake levels this week were relatively stable. Observed lake stages at New Johnsonville were 355. At Kentucky Dam the lake level was slightly lower at 354.9.
Crappie action continues to hold up well as anglers work both shallow stakebeds and main lake ledges. Most of the fish this week have come from the 7 to 12 foot zone around the Paris Landing area.
There's a lot of fish in the midrange depth zone as the abundance of shad in that area is attracting crappie to structure. A lot of fish are just under the 10-inch minimum length limit, however, so keep your ruler handy.
Even with the abundance of small fish in midrange structure, anglers are finding a good one now and then. Most of the fish appear to be in flats along the main lake while secondary bays are less appealing.
Some larger fish were coming off main lake drop-offs this week. Depths of 13 to 16 feet were producing a few good fish but quite scattered. Anglers working the deeper areas are tightlining shiner minnows and jigs.
Popular colors this week have been fluorescent green, chartreuse, and pink leadheads tipped with white, chartreuse and red metal flake, and green and white combinations.
Small jigs in the 1/16-ounce (one-sixteenth) size are working best. And, tipping a jig with a minnow or Berkley crappie nibble seems to enhance the strike.
Look for action to hold up well this week, as fall crappie patterns are right on track here at Kentucky Lake.
Bass anglers are still having good luck casting shad colored crankbaits around rock and gravel points. Main lake ledges are still producing some smallmouth and largemouth too. And, there's still some topwater activity in the mornings and afternoons along gravel shorelines.
Shallow running crankbaits such as Bandit's Root Beer color has been working well. And, chartreuse and blue-skirted spinnerbaits with gold blades have produced some bass this week as anglers work shallow wood such as stumps and visible crappie beds.
Pitching a jig or worm has worked around boat docks and piers. Several bass are relating to the shallow docks, especially on sunny days.
All in all the fall fishing remains good. And, the next week or two should see a peak in the colors as the hillsides full of hardwoods make a great backdrop for a good fishing trip.
For The Lake Barkley Report
Click Here
Also check out our past:
Kentucky Lake Fishing Reports
Steve McCadams
Steve McCadams is one of the nation's best known Crappie fishermen and a full time resident of Paris Tennessee. Steve is also a professional hunting and fishing guide here in the Paris Landing area.