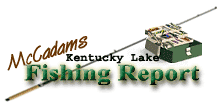 Brought to you by: Fishtale Lodge
October 15, 2009

Fall is supposed to be kind to anglers here on Kentucky Lake. The norm is to have cool crisp mornings and some patchy fog that melts away on up in the day, courtesy of a warm sun where light winds whisper autumn.

That has not been the case this week as pesky northeast winds and misting rain have commanded both rain gear and heavy coats. Breezes have been annoying, delivering somewhat below average temps on most days that played havoc with fish patterns for both bass and crappie.

Whitecaps have whipped up main lake areas, limiting fishermen on where they could go or hold the boat and fish. And another cold front is descending as the weekend approaches, a scenario that will not help the bite for bass and crappie.

Anglers may have to endure a few days of unstable weather and below average temps before a warming trend arrives early next week according to the weatherman. It appears better weather is on the way but until then better brace yourself for winter weather.

Water levels this week are up a few inches as heavy rains to the south continue to send a lot of water through the Tennessee River system. However, TVA has been spilling water through Kentucky Dam and managed to keep a handle on the elevation that is now slightly above normal for this time of year.

Elevation at Kentucky Dam is predicted to be 355.6 going into the weekend. Upstream at New Johnsonville readings are somewhat higher and in the 356 range. Lake levels rose at midweek but crested quickly and are expected to fall slowly throughout the weekend.

Current is indeed present in the Tennessee River. Water color is clear throughout most of Big Sandy and West Sandy. Only a slight stain is present in the main river channel.

Surface temps have been in the 66 to 69 degree range early in the week and began falling some at midweek. Expect to see temps down in the 62 to 65 degree range by this weekend and cool nights are in the forecast.

Crappie action has been mediocre this week as cool fronts and nasty winds have been a factor most of the time. Several nice fish were coming from deep ledges in the 17 to 20 foot range but scattered.

Midrange stakebeds and brushpiles in the 11 to 14 foot depth range have been giving up some keeper size fish but action has been inconsistent as the fish are scattered and finicky as to their mood.

Strikes have been light, even from some of the bigger crappie who havenít been aggressive in several days. Jigs tipped with minnows were accounting for several fish while some anglers are using jigs only and tipping occasionally with Berkley Power Bait to entice strikes from stubborn crappie.

Popular color combos have been white/blue, pink/chartreuse, red/white, chartreuse with red sparkle, and some clear tube skirts sporting sliver metal flake.

Overall, action has been somewhat below normal for most crappie anglers this week but that could change by early next week as cooler surface temps and the return of moderate weather could see some improvement.

Bass action has been fair with a lot of small fish showing up. A few of the cloudy days saw some pretty good stringers taken by anglers tossing shad colored crankbaits along gravel points and rock bluffs. Others have worked grassbeds with floating worms and assorted jerk baits and willow leaf spinnerbaits.

Some boats were still working main lake ledges when winds would allow. Tossing Carolina rigged lizards, big crankbaits, Texas rigged worms and some rattle trap style baits have worked as have some swim baits around schooling bass on shallow flats.

Although topwater action is popular during fall months not many anglers were reporting success this week as surface activity was slow.

Current is a factor for bassers fishing the edges of islands and rip-rap around bridge piers. With TVA pulling water current should continue throughout the weekend.

Right now anglers have their hopes set on better weather which should arrive early next week. Itís time to say goodbye to these March winds and weather patterns that have plagued fishermen during most of October.

For The Lake Barkley Report
Click Here
Also check out our past:
Kentucky Lake Fishing Reports
Steve McCadams
Steve McCadams is one of the nation's best known Crappie Fishermen and a full time resident of Paris, Tennessee. Steve is also a professional hunting and fishing guide here in the Paris Landing area.