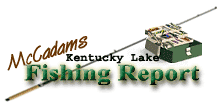 Brought to you by: Fishtale Lodge
Steve McCadams'
Kentucky Lake Fishing Report for:
October 15th, 2004
Despite the midweek arrival of a cold front and some brisk west to northwest winds, this weekís fishing report is still a good one for both bass and crappie anglers on Kentucky Lake. Action has been good for both species this week.
Elevation is expected to be 355.4 at Kentucky Dam this weekend according to TVA. The reservoir has been relatively stable this week and will rise slightly going into the weekend.
Surface temperatures have cooled a few degrees since last week. Readings have been in the 66 to 69 degree range this week and will likely cool a few degrees by the weekend after some cold nights.
Watercolor is still clear in most of the Big Sandy and West Sandy area while the Tennessee River portion is sporting some stain.
Crappie have been hitting good on jigs tipped with minnows this week. Stakebeds and brushpiles, along with submerged stump rows, have given up some good stringers this week. Depths of 7 to 13 feet have produced a lot of fish.
Thanks to some cloudy days and rainy mornings, several shallow bays and flats have produced some fish this week. Shallow areas seem to improve on cloudy days, as the fish are somewhat light sensitive and overcast conditions give the crappie a comfort zone is shallow cover.
However, there are still crappie lingering on the main lake ledges and anglers are scoring some good catches there while using tightline, bottom-bumping rigs where the double-hook presentation baited with minnows or jigs is working. A lot of fish are still relating to the deep sides of the drop-off where depths of 18 to 20 feet are worth trying.
Tightlining 1/8-ounce jigs has worked well on the main lake ledges too. Popular colors have been red/chartreuse, blue/chartreuse, and orange/chartreuse color combinations.
I found several fish in the midrange stakebeds and brushpiles this week but Iíve had to make a lot of stops, as the fish are not concentrated. Several beds have produce 6 to 8 fish at each stop.
Kentucky Lake guide Don Winstead has been scoring well this week with some hefty catches as well from midrange stakebeds. Winstead and his clients have had some limit catches recently while vertical fishing jigs tipped with minnows in the Paris Landing area.
Some decent fish are biting and itís not unusual to find several small fish mixed in with some keeper size crappie. Just keep the measuring board handy.
Bass continue to chase shad on secondary flats and along gravel points and roadbeds. Several fish have been busting the surface in pursuit of baitfish this week.
Crankbaits in various shad color variations are working well. Spinnerbaits are working too, along with chrome colored Rattle Traps.
Some fish are taking worms worked slowly over shallow grass. Many of the bays along the east side of the Tennessee River have abundant grass beds.
Although the midweek cool snap may slow things down a day or two, watch for action to bounce back quick as the fall fishing has been well worth it this year.
For The Lake Barkley Report
Click Here
Also check out our past:
Kentucky Lake Fishing Reports
Steve McCadams
Steve McCadams is one of the nation's best known Crappie Fishermen and a full time resident of Paris, Tennessee. Steve is also a professional hunting and fishing guide here in the Paris Landing area.