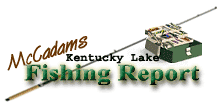 Brought to you by:



October 14, 2010

RETURN OF NORMAL FALL WEATHER SHOULD AID ANGLERS

Fall fishing on Kentucky Lake continues to deliver a variety of weather conditions at a time when stability is the norm. This week's fishing scene has gone from hot and dry weather to nice and calm before another cool front slipped in the door delivered by high north winds.

In-between it all was a long overdue thunderstorm that finally dropped some rain in the Paris Landing area on Tuesday and Wednesday.

Overall, the weather has been nice to anglers this week before the high winds and cool front descended but it appears good weather is in the forecast for this weekend and early next week.

Lake levels remain low with very little fluctuation these days. TVA has been keeping the reservoir near its winter pool elevation lately as very little rain and runoff has entered the picture.

Elevation at Kentucky Dam is 355.2. Upstream at New Johnsonville Steam Plant readings were in the 354.9 range. Those levels are similar to last week at this time.

Water color remains clear throughout the reservoir.

Surface temps climbed back into the 70 to 73 degree range this week after several days of above average temperatures last weekend and earlier this week. Cooler weather is expected this weekend and that should see surface temps fall back into the mid to lower 60's in the days ahead.

Crappie fishing has been fair to good this week with some nice size fish showing up. Numbers have been down lately but some decent stringers are still coming in with the bite improving when light winds and cloudy conditions are present.

Depths of 8 to 12 feet are producing some good crappie. Stakebeds and brushpiles in that depth range have been giving up fish this week in the Paris Landing area. A few anglers are still stalking main lake ledges in 14 to 18 feet and finding some fish taking jigs worked slowly around the submerged structure.

Tipping a jig with a minnow has been the bait of choice. Small leadheads in the 1/16 to 1/32-ounce range were working best and the finicky fish seem to prefer the smaller baits.

A few days fish were reluctant to take loud colored jig heads or skirt bodies. Just tipping a minnow on a small leadhead worked well at times.

Those stakebeds and brushpiles are full of feisty yellow bass and hungry bluegill so expect to encounter a lot of short strikes as the fish nip at the bait.

Speaking of bluegill, several anglers have been landing some good numbers of keeping size fish this fall. Fishing around bridge piers and along drop-offs or the main riverbank itself will put you in touch with some aggressive bluegill that will nail redworms tossed their way.

Bass action seemed to improve this week as calm winds and stable weather returned to the picture. Some shallow fish were taking spinnerbaits and shallow running crankbaits tossed on sloping points and flats where fish were schooling and chasing shad.

Grassbeds south of New Johnsonville were producing some bass this week and short vegetation was found in the backs of creeks and pockets near Harmon's Creek and Little Richland.

Here in the Paris Landing area anglers were finding a few more fish responding to Rattle Traps, spinnerbaits, and crankbaits on roadbeds and gravel banks this week compared to last week at this time.

Main lake ledges are still holding a few fish and anglers are working jigs, Carolina and Texas rigged worms, and big crankbaits similar to summer patterns.

On the days with stagnant winds the bass have been sluggish to strike. When wind and cloud cover enter the picture things improve.

A few more bass were hitting shad in the early morning and late afternoon hours along main lake gravel banks but overall the topwater bite has been off. That can change quickly if some schooling bass enter the picture.

Catfish have been fair around the Paris Landing Bridge at times but not much current has been present. As a result not many boats have been seen targeting catfish along the main river channel as of late.

It appears normal fall temps and weather patterns will take over this weekend and into next week which should work in favor of anglers.


Also check out our past:
Kentucky Lake Fishing Reports

Steve McCadams is one of the nation's best known Crappie Fishermen and a full time resident of Paris, Tennessee. Steve is also a professional hunting and fishing guide here in the Paris Landing area.