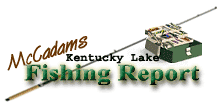 Brought to you by: Fishtale Lodge
Steve McCadams'
Kentucky Lake Fishing Report for:
October 14th, 2005
From the local fishing scene come consistent reports of success from both bass and crappie anglers testing the waters of Kentucky Lake.
After last weekís cold front, escorted by gale north winds, conditions have been very pleasant on the lake with typical fall weather. The cool mornings and warm afternoons are offering great fishing weather.
Light and variable winds have been the norm the last few days. That suits crappie and bass anglers just fine as it make just about anywhere on the lake attractive.
Low lake levels are dominating the talk for most boaters as Kentucky Lake has fallen to the winter pool stage this past week.
Elevation in the Paris Landing area is in the 354.5 range. Similar readings are being reported at both Kentucky Dam and New Johnsonville. Thatís down a few inches from last week at this time.
Surface temperatures really plummeted last weekend in the aftermath of the cold front but have rebounded quickly the last few days. Presently, surface temperatures are starting out around 68 degrees in the early mornings but climbing to the 71 to 73 degree range a midday.
Watercolor remains clear throughout Big Sandy with only moderate stain in the Tennessee River.
Overall, fishing has been good. Crappie are hitting jigs tipped with minnows in 7 to 12 foot zones. Manmade fish attractors are holding a lot of fish and they seem to be in the mood to bite.
There are still fish lingering along the main lake ledges too. Several fish are residing along the drop-offs in the 14 to 16 foot range.
Good numbers of crappie are showing up as a lot of fish are just shy of the 10-inch minimum length limit. Itís good to see the big numbers out there.
Iíve been catching and releasing some 75 to 100 fish a day lately but itís fun to have that much action. A few food fish are mixed too as Iíve managed to cull out 45 to 50 keeping size fish a day on most trips.
Bass action has a variety of patterns producing now but most involve a shallow water pattern. A few nice smallmouth are still relating to sloping points and humps along the main river but several nice largemouth have been chasing shad in shallow flats.
Gravel points and rocky banks are holding decent fish and some are busting topwater throughout the day. The lower lake levels are exposing a lot of shallow stumps and crappie beds which are appealing to anglers tossing spinnerbaits, floating worms, and shallow running crankbaits.
A few fish appear to be schooling as some largemouth are running shad, along with some schools of white bass that are busting in surface frenzies.
Popular colors have been chrome and Tennessee Shad. Some fish are taking buzzbaits around shallow grassbeds, many of which are exposed along shallow flats and in the upper ends of large bays.
Pay close attention to buoys, as now is not the time to take those shortcuts across open water.
For The Lake Barkley Report
Click Here
Also check out our past:
Kentucky Lake Fishing Reports
Steve McCadams
Steve McCadams is one of the nation's best known Crappie Fishermen and a full time resident of Paris, Tennessee. Steve is also a professional hunting and fishing guide here in the Paris Landing area.