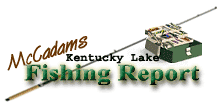 Brought to you by:




October 13, 2011

PUMPKIN MONTH PLEASING TO KENTUCKY LAKE ANGLERS


Kentucky Lake anglers have been the beneficiary of great fall fishing conditions this week as several days have seen above average temperatures. Light winds have greeting fishermen all week and while slightly cooler conditions are arriving for the weekend it appears beautiful weather will linger into next week.
Some overdue rain danced around the Paris Landing area Wednesday night and early Thursday morning with a wind change and some cool air but nothing too drastic for anglers.
Fall is a season with the reputation for stability and with the exception of a couple cool fronts the last several weeks have been just what the doctor ordered for fishermen. Those jacket mornings and shirt sleeve afternoons have been the ticket for bass, crappie, and catfishermen.

Lake levels have been relatively stable the last few days but fell slightly earlier in the week. Kentucky Lake is resting near its winter pool level and will likely stay there unless some unforeseen weather sneaks into the fishing scene.

Elevation at Kentucky Dam will be in the 355 range this weekend while upstream at New Johnsonville Steam Plant readings are slightly lower in the 354.9 range. Lake levels are down slightly from last week at this time but anglers shouldnít see much fluctuation in the week ahead.

Water color is quite clear across most of the reservoir. Surface temps have been slow to cool down as the warm days have held a grip and kept readings in the 71 to 73 degree range all week. With some cooler air arriving expect to see a slight drop in surface temps the next few days.

Crappie continue to bite good as anglers are finding good numbers of fish showing up in the Paris Landing area and elsewhere across the reservoir. Popular depth range has been the 9 to 14 foot zone, which is pretty common for fall fish that find a real comfort zone in the midrange depths.

Cloudy days and a few foggy mornings have helped the bite in shallow areas but clear water and bright sunny days when stagnant winds arrived at midday have seen fish turn sluggish at times. Those morning when light winds and cloud cover teamed up have produced some nice fishing conditions and crappie responded favorably.

There are good numbers of crappie right at the 10-inch length limit range, which indicates a strong 2 Ĺ year class of fish out there. Several exceed the minimum length so you can find plenty of keepers mixed in with the small fish but itís not unusual to require frequent measurements during the course of the day.

Some of those true black crappie are hefty but usually not as long as the profile of the white crappie. It appears this age class will provide some good fishing for the late winter and early spring time frame as they grow and mature.

Patterns have seen the crappie holding tight to structure on most days as those stakebeds and brushpiles have attracted fish but you have to put the jig or minnow right in their front door before strikes occur on most days. Bites have been light so the fish have to have the bait presented on their terms.

Popular colors have been some black/chartreuse, white/orange, blue/chartreuse, and dull colors such as motor oil or sliver with sparkle type skirts. Iíve found some hair jigs in the brown or white body producing well when fished with chartreuse, white, yellow and black leadheads.

Tipping jigs continues to work well as the Berkley Power Bait crappie nibbles are popular choices in such colors as white, chartreuse, and gold with metal flake. Live minnows have been fair.
More good crappie fishing in on the horizon so better take advantage of this fall fling underway.

Bass action has been fair with some flurry of activity at times when wind and cloud cover entered the picture. The fish are chasing shad along gravel banks and roadbeds at times while also busting the surface near the shallow sides of main lake ledges.

Shad colored variations of crankbaits are working well. A few fish were taking jerk baits and Texas rigged worms at times.
Most of the fish are running shad around the rock banks and points that have deeper water nearby. Roadbeds and bridge piers have produced some fish as have some shallow stumps.

This fall bass fishing can have several patterns working at one time so donít be afraid to experiment with some fluke style works at times and jig and craw combos fish in a slow but steady retrieve. Carolina rigs have a time and place too this time of year, especially on those sloping gravel points.

There are a lot of bluegill showing up around submerged crappie beds lately so you can tie into some dandies this time of year if you care to fish for them.

Catfish have been moving up too as crappie anglers are tying into them daily around the midrange depths.

Colors keep fading across the shorelines and the trees seem to be changing now on a daily basis. Not every day is perfect but your odds of getting good fishing conditions this time of year make it well worthwhile to plan a fall fishing trip.

Also check out our past:
Kentucky Lake Fishing Reports

Steve McCadams is one of the nation's best known Crappie Fishermen and a full time resident of Paris, Tennessee. Steve is also a professional hunting and fishing guide here in the Paris Landing area.