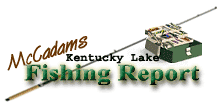 Brought to you by: Fishtale Lodge
Steve McCadams'
Kentucky Lake Fishing Report for:
October 13th, 2006
LOW LAKE LEVELS GET BOATERS ATTENTION
Dominating the discussions of both anglers and pleasure boaters has been the low elevation of Kentucky Lake lately.
Low water always seems to stimulate interesting conversations for everyone from waterfront property owners to fishermen concerned about running aground on those open lake sandbars.
Kentucky Lake was rising slowly at midweek but late last week and earlier this week saw falling lake levels drop down to the 354.2 range here in the Paris Landing area. That lake stage isnít normally observed on TVAís drawdown curve until November.
TVAís projections show a slight rise going into the weekend. Lake levels are predicted to be 354.6 at New Johnsonville and 354.8 at Kentucky Dam.
Boaters need to pay close attention to secondary and main river channel markers this time of year. Low lake levels expose a lot potential hazards and there is an abundance of hidden dangers out there just barely beneath the surface.
Surface temperatures have been in the 68 to 71 degree range this week but expect a decline of three to four degrees by this weekend in the aftermath of a cold front.
Water color remains clear throughout most of the reservoir as the influence of falling lake levels has pulled stained water out of most shallow bays.
Crappie action has been good this week with a lot of fish coming from the 7 to 12 foot range. Shallow structure in that depth range is really holding crappie as schools of shad appear to be abundant.
Submerged stakebeds and brush piles are really paying dividends. Structure with some deeper water close by appears to be the most attractive type location but Iíve also found some decent fish relating to beds up on relatively shallow flats.
There are still some fish holding on the deep side of main lake ledges where cover in the 17 to 20 foot zone is holding on to some scattered crappie. However the bulk of crappie have really moved up into the midrange depths the last week to ten days, which is a normal fall pattern.
Those cloudy days with a little wind have been working in favor of anglers who are vertical fishing jigs, minnows, and jigs tipped with minnows or scented crappie nibbles. A few anglers are casting twister tail grubs and tube skirts under slip bobbers with success.
Iíve had several days this week eclipsing 100 fish a day from shallow beds. A lot of fish have been culled that fell short of the 10-inch minimum length limit but there are plenty of keepers right there with them. Increased numbers of large fish were showing up this week too.
Fall crappie fishing has some good weeks ahead. Anglers can expect the crappie bite to hold up well for the next few weeks. Action the next day or two may slow down due to the cold front and high skies but watch for crappie action to rebound quickly early next week as the fish are in the mood.
Baits of choice have been chartreuse, red and black lead heads in the 1/16-ounce size tipped with tube skirts or live minnows. Several days the fish have aggressively taken jigs while the calm days seemed to request live bait supplements.
Bass action has been fair as anglers continue to test a variety of patterns ranging from flipping tube and jigs around boat docks to crankbaits on rocks and spinnerbaits or worms around grassbeds.
Carolina rigged worms and lizards have fooled a few fish on sloping points and rocks. Texas rigged worms around the outside grass beds have worked too as have some jerk baits such as flukes and stick baits around gravel banks where shad are popping.
A lot of shallow stumps and exposed crappie beds have offered good targets for topwater and spinnerbaits for bassers fishing wood type structure. Some shallow running crankbaits in shad and pearl colors have yielded strikes.
The abundance of grass has given anglers a lot of visible targets but fish have been finicky in the thick grass as to bites on topwater and weedless style lures.
Not many smallmouth are showing up. Cooler surface temperatures in the days ahead could see an improvement in the overall bass bite.
Catfish action remains ho-hum at best. Not many anglers are reporting in with success stories lately.
For The Lake Barkley Report
Click Here
Also check out our past:
Kentucky Lake Fishing Reports
Steve McCadams
Steve McCadams is one of the nation's best known Crappie Fishermen and a full time resident of Paris, Tennessee. Steve is also a professional hunting and fishing guide here in the Paris Landing area.