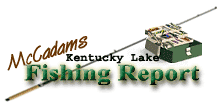 Brought to you by: Fishtale Lodge
Steve McCadams'
Kentucky Lake Fishing Report for:
October 12th, 2007
OVERDUE COOL SNAP CHASES HOT WEATHER AWAY
A long overdue cool snap has arrived and anglers have been trading in the sunscreen for long sleeve shirts the last few days on Kentucky Lake.
A brisk northwest wind on Tuesday and Wednesday brought a change as temps fell dramatically at midweek. Monday saw near record highs of 91 degrees but by Wednesday the high barely managed to reach 71 degrees. Cool days and nights are in the forecast going into the weekend, which should put an end to the summer like conditions which have lingered the last two weeks.
Surface temps were in the 77 to 80 degree range earlier this week but were falling fast at midweek and should be in the upper 60's by this weekend.
Water color remains clear across most of the reservoir.
Observed lake elevation at Kentucky Dam is 355.6. Upstream at New Johnsonville reading were in the 355.4 range.
Lake levels are about on track for TVA's normal fall drawdown curve. And, lake levels have not changed much since last week at this time and should remain stable going into the weekend as no rain is in the forecast.
Crappie action has held up well as the fish continue to move toward midrange depths of 11 to 13 feet where manmade fish attractors are giving up good numbers. Both stakebeds and brushpiles are producing as fish are relating pretty tight to structure during the last few days where high skies and a high pressure chased away cloud cover.
I found good numbers of fish taking both jigs and minnows the last few days with some larger fish moving up compared to last week at this time. A few fish in the 1 ¼ to 1 ½ pound were showing up in deeper structure.
Some fish have been taking black and chartreuse jigs, along with blue and white, green and clear, and some clear and white with sparkle. Tipping jigs with Berkley Power Bait has helped entice some strikes too but live minnows added to jigs have seen the best results.
I've taken a lot of fish this week by just tipping unpainted leadheads with live shiner minnows. Bites have been somewhat finicky on the days when the high pressure and high skies dominated but early morning and late afternoon saw increased action as the fish seemed to bite better.
The fish appear to want the bait right in their face and presented slowly. Most of the crappie have been holding tight to cover.
Some larger fish are holding on main lake ledges too as those deep stumps and brush along the edges of drop-offs are worthy of pursuit. Depths of 15 to 17 feet have given up some scattered fish as anglers work double hook bottom bumping rigs with live minnows and jigs.
Several anglers scouting for the Crappie USA Classic have been on the lake this week using a wide variety of techniques and presentations. It appears many of the drift fishermen, along with those spider rigging or long lining were having tough luck as not many crappie were in a suspended mode.
Others were trolling crankbaits and covering a lot of water with only a scattered fish to show now and then.
The cooler nights should see more fish moved toward shallow venues in the days ahead.
Two weeks ago I was finding some fish beginning to enter shallow beds in 7 to 9 feet but the last week or so the hot weather appeared to back the fish off to deeper structure. The return of some cloud cover combined with cooler surface temps will see crappie move up more and more in the days ahead.
Bass action has been fair this week with a slow down at midweek due to the high skies that seemed to turn off the shallow bass bite.
Watch for increased activity in the days ahead, however, as shad will likely return to surface action along gravel banks in the lowlight conditions.
A few bass were chasing shad and hitting the surface along shallow flats as white bass were also part of the feeding frenzies at times. Gull activity will help you find the topwater schools of shad and fish activity.
Grassbeds continue to break up and drift as fragments of vegetation are visible across the main river area. However, plenty of grass is still visible in the backs of large bays in the Paris Landing area such as Standing Rock, Lost Creek, Ginger, Piney, and up toward Hurricane and Leatherwood.
Working worms and spinnerbaits on the outside of grass patches continue to produce some fish. Some topwater has worked too in the early morning and late afternoon periods.
Crankbaits in the shad colored variations are still producing when worked slowly around gravel and big chunk rock points.
Carolina rigs and jig and pig combos have worked on sloping banks and points entering deep water.
For The Lake Barkley Report
Click Here
Also check out our past:
Kentucky Lake Fishing Reports
Steve McCadams
Steve McCadams is one of the nation's best known Crappie Fishermen and a full time resident of Paris, Tennessee. Steve is also a professional hunting and fishing guide here in the Paris Landing area.