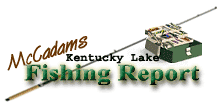 Brought to you by: Fishtale Lodge
October 1, 2009

Cooler conditions entered the fishing scene earlier this week on Kentucky Lake and that suited anglers just fine. After last week's warm and muggy weather fall conditions have taken over with those jacket mornings and shirt sleeve afternoons like it is supposed to be.

Although brisk northwest winds escorted a cool front on Monday and Tuesday light and variable winds have been the norm since, making for some nice days on the lake for bass and crappie anglers. A few foggy mornings have greeted anglers.

Lake levels have been changing this week after a surge late last week that saw the reservoir jump by over a foot due to runoff from heavy rains further south in the TVA watershed.

Presently, TVA is spilling water through Kentucky Dam and dropping lake levels by several inches each day. That has put a lot of current in the main river this week.

Lake levels at Kentucky Dam are expected to be 355 this weekend. Upstream at New Johnsonville TVA projects the elevation to be 355.4. Those readings are down more than a foot compared to last week at this time.

Watch for the reservoir to crest in the next few days with some stability or perhaps a very slow drawdown as TVA has gotten levels back to its curve for winter drawdown schedule.

Surface temps responded to the cool snap and have fallen several degrees this week. Cool nights have influenced readings that are now in the 72 to 76 degree range.

Water color on the Tennessee River is sporting a good stain for fishing. The mouth of Big Sandy and up south of the power lines remains relatively clear as is a portion of West Sandy.

Crappie continue to bite well as some dandy stringers were taken this week in the 10 to 14 foot range. The falling lake levels pulled a few fish deeper on the ledges where some action was taking place in the 15 to 17 foot range as well.

Last week's rising lake levels saw crappie respond and move up toward shallow areas, especially when cloudy days and rain were present. This week's clear skies seemed to push fish back out to midrange depths where structure on or near drop-offs were producing good numbers of fish.

Fish seemed more aggressive the last few days as the cooler surface temps likely influenced the attitude as last week fish were sluggish.

Jigs have paid off well with such color combos as chartreuse/white, red/chartreuse, blue/pearl, and red/white working well. Chartreuse and white leadheads with silver sparkle tube skirts have also been popular choices in clear water.

Shiner minnows were working too and tipping a jig with a minnow or Berkley Power bait crappie nibbles in white, chartreuse, or sliver and gold sparkle were paying dividends.

Look for good crappie action to continue as stability returns to the fall fishing scene in both temperatures and water levels in the weeks ahead.

Bass are really chasing shad on shallow flats this week after winds subsided at midweek and cooler temps stimulated shallow activity. Several fish were showing signs of surface feeding frenzies that were not present last week along shallow gravel banks.

Watch for the gulls to help show you where the baitfish and surface action is occurring.

High winds earlier in the week made it tough for a day or two on the open water ledge fishing but it bounced back quickly as anglers eased back out on main lake drop-offs where Carolina rigged worms, big deep diving crankbaits and swim baits, and some jigs were producing.

Fish seemed to move up on sloping shallow points and the top side of ledges this week, a likely transition toward shallow schools of shad that enjoyed the recent cool snap.

Grass patterns came back into the picture this week after a week or so of high water submerged a lot of the shallow vegetation that still held fish but took a lot of topwater action out of the equation for a short period.

Look for spinnerbaits, floating worms, and assorted jerk baits to work well in the days ahead as falling lake levels will expose a lot of grass around island rims and large bays south of Paris Landing. Rattle traps and shallow running crankbaits will be good choices as well.

Current has been a factor all week along the main river channel and beneath bridge piers and along rock levees. Shad colored crankbaits and some spoons and swim baits have worked at times.

With the falling surface temps watch for topwater action to increase along shallow gavel banks during lowlight conditions where fish will be feeding on shad that show up in big numbers for the midge hatch buffet.

Fall fishing is alive and well.

For The Lake Barkley Report
Click Here
Also check out our past:
Kentucky Lake Fishing Reports
Steve McCadams
Steve McCadams is one of the nation's best known Crappie Fishermen and a full time resident of Paris, Tennessee. Steve is also a professional hunting and fishing guide here in the Paris Landing area.