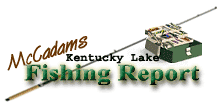 Brought to you by: Fishtale Lodge
Steve McCadams'
Kentucky Lake Fishing Report for:
October 1st, 2004
CRAPPIE ACTION HEATS UP AS WATER COOLS DOWN
Fishing has been good this week for crappie anglers. Fall fishing patterns are going full swing as several fish are now moving into midrange depths and sporting a real appetite.
Overall weather has been good to anglers this week, although a few mornings delivered a brisk north wind and whitecaps. Other than a few mornings of uncomfortable wind conditions have been favorable.
Several good stringers of crappie have been taken this week from both manmade structure and deep ledges in the main lake. The stake beds and brush piles located in 9 to 13 foot depths have paid dividends as more fish have moved up this week.
At the same time, several good fish are still lingering on the main lake ledges in depths of 16 to 20 feet. Fish there have been taking shiner minnows on bottom bumping rigs.
The improvement in midrange cover is likely due to both cooler water temperatures and slightly higher lake levels this week.
Water color along the main Tennessee River is a good stain and just enough dingy water is present to offer appealing conditions for shallow water activity. The Big Sandy embayment remains clear.
Kentucky Lake is falling slowly now and TVA predicts a reading of 356.3 this weekend at New Johnsonville. Kentucky Dam is expected to have levels near the 355.9 range.
Although lake levels are falling now, the lake actually came up a few inches earlier this week and that seemed to send some fish toward the shallow flats and bigger bays. Shad have been moving and the crappie and bass are close on their trail.
Surface temperatures have cooled since last week. At midweek I found water in the 72 to 75 degree range in the Paris Landing area. Look for that to cool even more this weekend as the weatherman indicates some chilly nights are in the making.
I found some nice size fish in 18 to 20 foot depths relating to stumps throughout the week. At the same time, guide Don Winstead was fishing stakebeds in 9 to 13 feet and having success too.
Although fish are still a bit scattered, action had improved over the previous week.
Bass fishing has been fair but several local anglers report inconsistent action. Some fish are hitting shad colored crankbaits around rock points and gravel banks, along with some topwater action early and late.
The grassbeds are producing several small bass that seem to have a passion for small spinnerbaits and floating worms tossed around the edges.
Some fish are still hanging out on main lake drops where big crankbaits, jig and pig combos, and Carolina rigged lizards are producing.
A few scattered white bass are busting shad on top of shallow flats and the calm days allow you to find them. Or, you can watch for the gull activity, as the feathered friends will lead you to the baitfish activity.
Some catfish are hitting on the main lake ledges and giving crappie anglers a thrill during the day on light tackle.
And, there's still enough current to stimulate action along the main river channel yet it not too swift to fish. TVA has been discharging water but not as much as last week so conditions have improved for catfish anglers wanting to work the main riverbank.
With cooler conditions on the way this weekend anglers may have to tolerate a day or two of north to northeast winds and slap on another jacket. However, next week should be some good fall fishing as conditions cool and fish become even more aggressive.
For The Lake Barkley Report
Click Here
Also check out our past:
Kentucky Lake Fishing Reports
Steve McCadams
Steve McCadams is one of the nation's best known Crappie Fishermen and a full time resident of Paris, Tennessee. Steve is also a professional hunting and fishing guide here in the Paris Landing area.