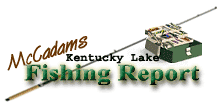 Brought to you by: Fishtale Lodge
Steve McCadams'
Kentucky Lake Fishing Report for:
October 10th, 2008
FALL CRAPPIE ACTION IMPROVES/BASS BITE STILL ON
You know itís dry when even fishermen want it to rain.
We got our wish and in the aftermath of Tuesdayís rain crappie action improved with a positive response to overcast conditions. Seems the fresh water helped both the attitude of the fish and the fishermen.
Heavy downpours drenched the Paris Landing area Tuesday morning and again that night with some runoff entering the system and delivering a bit of dingy water to shallow bays. The main lake area remains clear.
Lake levels are up a few inches since the heavy rains. Observed lake elevation at Kentucky Dam was 354.8 at midweek. Upstream at New Johnsonville lake levels were in the 354.6 range.
Thatís still low lake levels but up a few inches from last week at this time. Recreational boaters and anglers still need to use caution and pay close attention to channel markers as itís no time to take shortcuts over open water flats.
Surface temperatures were in the 71 to 74 degree range.
Fall crappie perked up some on Tuesday and Wednesday as cloud cover followed the rainy conditions and seemed to stimulate action in midrange depths were crappie had been somewhat sluggish.
At midweek increased numbers were showing up in stakebeds and brush piles around the 7 to 11 foot depth range. Earlier in the week fish were very scattered in those areas but seemed to respond favorably to the recent rise in lake levels and fresh water that also stimulated shad movement.
A few fish are still lingering on the drop-offs in such depth as 14 to 17 feet but bites there are scattered.
A good grade of fish was showing up at midweek with several fish eclipsing the 1-pound mark.
Jigs in dull colors have worked as have a few in white and chartreuse color variations. However, on the days with stagnant winds tipping a jig with a minnow has increased bites as has tipping with Berkley power bait.
Some days even the larger fish are finicky as to their strike. While a few fish have taken just plain jigs they sure seem to have a preference for one tipped with a live minnow.
Bass action has held up for anglers stalking the grassbeds along river islands and open flats near deeper water.
Spinnerbaits in white/chartreuse or blue/clear with metal flake skirts and gold willow leaf blades have worked well as have some weedless frogs. Texas rigged worms in the red shad and blue with pearl have also worked as have the Sweet Beaver and floating fluke style baits.
A few fish are hitting on sloping gravel banks as shad come in during lowlight conditions. Tossing jerk baits and shad colored crankbaits have produced there.
Some anglers were flipping jigs around boat docks and piers. Roadbeds exposing shallow gravel are also holding fish.
Working main lake ledges with big crankbaits and Carolina rigged worms is still commanding the attention of a few anglers hoping for bigger bites but the numbers are still coming from grassbeds.
Shallow stump around deep water are worthy of attention too.
Some whitebass are busting the surface and shallow flats where you see a lot of gull activity will tell you where to watch. Tossing those rooster tails and small spoons will get you in some fast action from the scores of yellow bass and white bass which are in feeding frenzies.
For The Lake Barkley Report
Click Here
Also check out our past:
Kentucky Lake Fishing Reports
Steve McCadams
Steve McCadams is one of the nation's best known Crappie Fishermen and a full time resident of Paris, Tennessee. Steve is also a professional hunting and fishing guide here in the Paris Landing area.